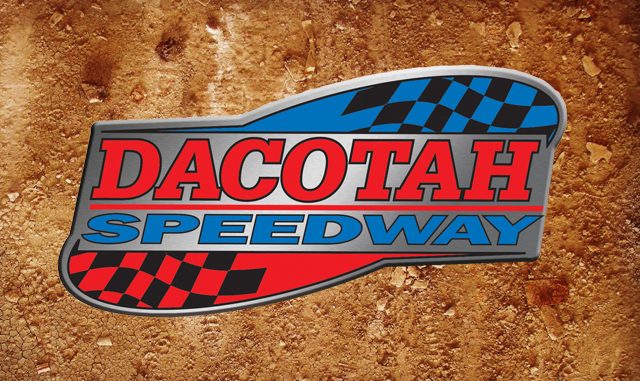 By Becca Rattei
MANDAN, N.D. (May 21) – Marlyn Seidler and Ken Sandberg continued their winning ways Friday at Dacotah Speedway.
Scott Gartner led from the pole in the IMCA Modified feature. As Gartner stretched his lead over second place Crist Pittenger, Seidler cracked the top five after starting eighth. Seidler passed Chris Welk for fourth and when Michael Hartigan got loose, Seidler slipped by for third place as well.
Wasting no time, Seidler quickly caught and passed Pittenger for second and set his sights on the leader. Once Seidler caught Gartner, he struggled to get around the young driver. Switching his line to the high side, Seidler found some extra speed to get around Gartner and take the lead on lap 10.
Seidler pulled away as Gartner had his hands full with a speedy Zach Frederick and Jeremy Keller. It was a three-car battle before Keller slipped by to take second. As the laps wound down, Seidler started to catch lapped traffic but it didn't slow him down any as he pulled away to win his second feature victory in a row at Mandan.
Keller, who started 10th, finished a distant second. Frederick finished third ahead of Shawn Strand. Pittenger finished a season-best fifth.
Tom Dworshak led the field to the green flag in the Mach-1 Sport Compact feature. Outside pole sitter Tanner Hofer grabbed the early lead before Ken Sandberg pulled alongside.
They raced side-by-side until Sandberg muscled his way by and into the lead. The Thompson racing duo of Stan and Alex followed, dropping Hofer back to fourth. Hofer then felt pressure from Aiden Wagner.
With three laps to go, Wagner passed Tanner Hofer for fourth where he would finish. Stan Thomp­son held off Alex Thompson for second while Sandberg cruised to his ninth straight victory at Dacotah Speedway.