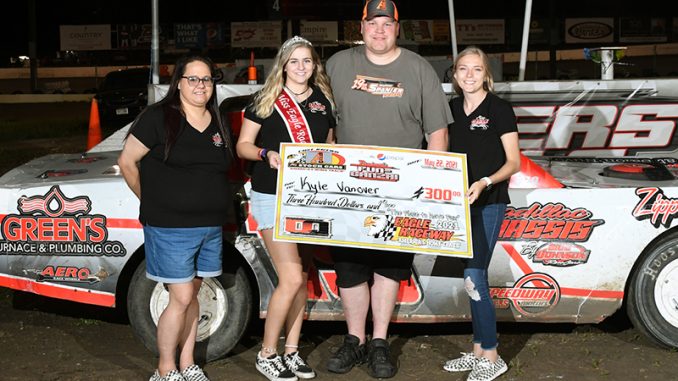 BEATRICE, Neb. – Kyle Vanover raced to two firsts and a 100th Saturday night.
His first-ever victory at Eagle Raceway on May 22 made Vanover, from Beatrice, the first driver from Nebraska to win 100 career IMCA Sunoco Stock Car features.
"This was probably the biggest goal for me," he said following the milestone checkers. "It's something we've been able to get done racing basically one night a week, plus some specials, since about 2013."
"There are a lot of places I've won at to put this together and that's another thing that's cool," added Vanover, who also has W's from weekly and special events in Iowa and Kansas on his resume. "We like to travel when we can and see how our stuff matches up racing against drivers at different tracks."
His stuff has matched up pretty well over 10-plus seasons: Wheeling the first Stock Car built by Brandon Johnson (Bigg Johnson Racecars), Vanover collected 13 feature wins in his rookie 2011 campaign and followed with a career-best 18 wins the next year.
He's collected five track championships and qualified for the main event at the IMCA Speedway Motors Super Nationals fueled by Casey's seven times, finishing as the runner-up at Boone in both 2018 and 2020.
"None of that would have been possible without a lot of help. A million people made this possible," Vanover said. "There were a lot of sacrifices by everybody. It wasn't just me, not even close."
Vanover totaled nine wins in an IMCA Sunoco Hobby Stock then ran in a factory stock class before moving to the IMCA Stock Cars.
"Back when I was racing a Hobby Stock here (at Eagle) in 2006-2007, we were always competitive and always close, but I wasn't good enough. I thought I was cursed," Vanover said. "The crazy part is that I won my first night out in an IMCA Stock Car. I went to Minneapolis Raceway with Jordan Grabouski and the video still comes up once in a while. I won a nailbiter in the end."
Grabouski, the 2019 national champion, got the worst end of the deal when he got together with Vanover racing for the lead Saturday night but helped his friend set off confetti cannons in the pits afterwards.
"Racing with Jordan is going to do nothing but make me a better driver and that's what I want to keep doing," said Vanover. "You can't sit back and relax. Everybody works on their stuff to get better every day."
He's found a good balance between racing and family life.
"The biggest thing is that you've got to have fun," Vanover said. "This sport can be expensive and time-consuming. You have to be having fun while you're doing it."
His first win in six previous starts this season came on April 15 at U.S. 30 Speedway. Vanover had finished second, third and second again in his three prior outings at Eagle.
Vanover is the 28th IMCA Stock Car driver to reach the 100-win mark and the second to do so this season. Jason Rogers won his career 100th feature on April 9.