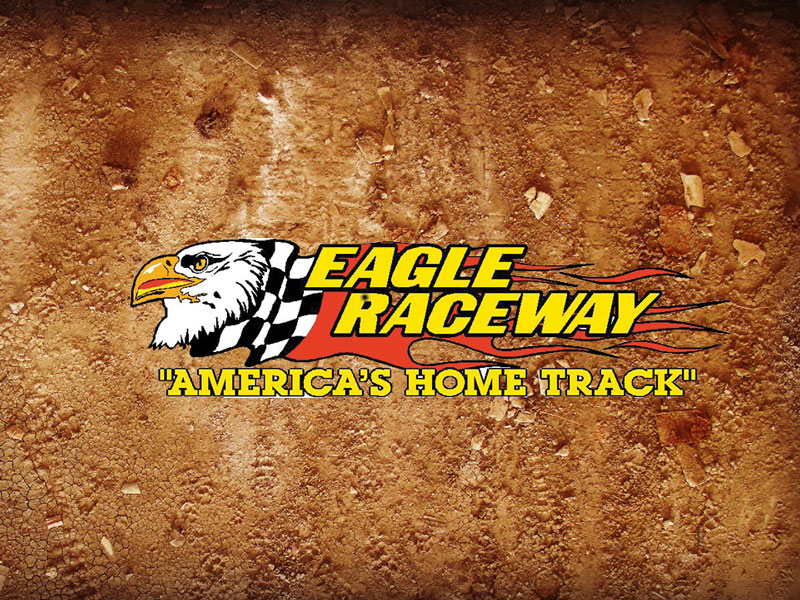 EAGLE, Neb. – Eagle Raceway is going to be the place to be this weekend for nearly 300 IMCA drivers
Pre-entries for the 2018 lidlifter now include 49 IMCA Modifieds, 46 IMCA RaceSaver Sprint Cars, 32 IMCA Sunoco Stock Cars, 50 IMCA Sunoco Hobby Stocks, 65 Karl Chevrolet Northern SportMods and 43 Mach-1 Sport Compacts.
Modifieds race for $1,000 to win on Friday, April 20 and for $2,000 to win on Satur­day, April 21 while Northern SportMods run for $500 to win both nights.
The Twice is Nice Challenge pays a cool grand to driv­ers in either division who can sweep the weekend main events and both Modified features are qualifying events for the 2018 Fast Shafts All-Star Invita­tional ballot.
Hobby Stocks chase a $400 top check while Sport Compacts run for $150 to win on Fri­day. Sprint Cars run for $1,000 to win and Stock Cars for $500 to win on Satur­day.
IMCA Speedway Motors Weekly Racing National, re­gional and IMCA state points will be awarded each night.
Pit gates open at 4 p.m. and the grandstand opens at 6 p.m. on Friday. Racing starts at 7:30 p.m. Spectator admis­sion is $12 for adults. On Saturday, gates open at 3 p.m. and the grandstand opens at 4:30 p.m. Racing is at 6 p.m. Adult admission to the grandstand is $15.
Pit passes are $25 while spectator admission is $5 for youth ages 6-12 and free for kids five and under both nights.
More information about the Ice Breaker Challenge, pre­sented by Auto Trans Matic, is available by call­ing 402 238-2595 and at the www.eagleraceway.com website.
IMCA Modified pre-entries are in hand from:
Chad Andersen, Fort Calhoun; Trevor Baker, Omaha; Eddie Belec, Arvada, Colo.; Josh Blumer, Marysville, Kan.; Jason Brinkman, DeWitt; Jason Britton, Lincoln; John Burrow Jr., Denver, Colo.; Benjamin Chukuske, Welcome, Minn.; Mike Densberger, Lincoln; Jared Deterding, Lincoln; Ken Eckhoff, Hooper; Randy Foote, Stanton, Iowa; Jordan Grabouski, Beatrice; Rik Gropp, Lincoln; Chevy Hadan, Bennington; Travis Hatcher, Honey Creek, Iowa; and Shane Hiatt, Rising City.
Jacob Hobscheidt, Plattsmouth; Clint Homan, Bellevue; Terry Hurt, Fort Calhoun; Ryan Jenkins, Omaha; James Kleinheksel, Columbus; Jan Korth, Lincoln; Nathan Landauer, Davey; Eric McMil­lan, Wilber; Jordy Nelson, Marysville, Kan,; Jay Noteboom, Hinton, Iowa; William Nusser, Larned, Kan.; Aaron Pella, Lincoln; Tim Pickens, Bellevue; Anthony Roth, Platte Center; Bob Ruisinger, Bennet; Jaxon Saathoff, Beatrice; and Johnny Saathoff, Beatrice.
Ashley Schaaf, Lincoln; Alan Schmitt, Omaha; Jeff Schroyer, Elkhorn; Pete Shoup, Lincoln; Dylan Smith, Osceola; Brandon Spanjer, Crete; Tyler Sutton, Beloit, Kan.; Chad Ten Napel, Sioux City, Iowa; Nate Thompson, Fremont; Lisa Wagner, Beatrice; Pat Wheeler, Omaha; Justin Wulf, Arling­ton; A.J. Valim, Palmer Lake, Colo.; Norm Ziegenbein, Lincoln; and Bob Zoubek, Dorchester.
IMCA RaceSaver Sprint Car drivers pre-entered include:
Gene Ackland, Martell; Tom Belsky, North Platte; Clint Benson, Papillion; Zach Blurton, Quinter, Kan.; Lee Bowes, Lincoln; Dwight Carter, Lincoln; Toby Chapman, Panama; Jason Danley, Lin­coln; Joey Danley, Lincoln; Keith Dragoo, Greenwood; Tyler Drueke, Eagle; Tim Fricke, Lincoln; Bill Garrow, Lincoln; Jimmy Grasso, Omaha; and Trey Gropp, Lincoln.
Trevor Grossenbacher, Hickman; Adam Gullion, Lincoln; Rick Hansen, Omaha; Paul Hendrick­son, Lincoln; Tim Hilfiker, Greenwood; Jacob Hughes, Hartford, S.D.; Tige Jensen, Lincoln; Kaleb Johnson, Sioux Falls, S.D.; Ryan King, Bennet; Ryan Kitchen, Lincoln; Cody Ledger, Omaha; Doug Lovegrove, Waverly; Austin McLean, Loveland, Colo.; Jason Martin, Lincoln; and Danny Nekolite, O'Neill.
Neil Nickolite, Bellwood; Dakota Osborn, Savannah, Mo.; Jeff Pendergast, Norfolk; Boyd Peter­son, Ithaca; Shon Pointer, Grand Island; Dustin Reeh, Council Bluffs, Iowa; Matt Richards, Lin­coln; Josh Riggins, Lincoln; Dan Satriano, Papillion; Jeremy Schultz, Stewart, Minn.; Stuart Snyder, Lincoln; Jason Tanner, Lincoln; Richard Weers, Lincoln; Chase Weiler, Lincoln; and Nate Weiler, LaVista.
IMCA Sunoco Stock Cars drivers on the early entry list are:
Darrin Adamy, David City; Doug Adamy, Columbus; Justin Addison, Norfolk; Eric Bartels, Plym­outh; Matt Boucher, Murdock; Austin Brauner, Platte Center; Kevin Brunk, Dunlap, Iowa; Chad Bruns, Wakefield; Paul Burck, Beatrice; Tim Drake, Omaha; Tyler Easterday, Lexington; Kurt Han­sen, Walnut, Iowa; Justin Hanson, Platte Center; Tyler Hiner, Columbus; Jake McCloud, Carter Lake, Iowa; and John Meyer, Odell.
Dan Nelson, Holmesville; Ron Pettitt, Norfolk; Tanner Pettitt, Norfolk; Tyler Phelps, Beatrice; Dave Plowman, Omaha; Shawn Primrose, Norfolk; Dustin Reeh, Council Bluffs, Iowa; Justin Regne­rus, Orange City, Iowa; Eric Rempel, Palmyra; Damon Richards, David City; Marty Stein­bach, Fremont; Shane Stutzman, Milford; Kyle Vanover, Beatrice; B.J. Wagoner, Colby, Kan.; Cole Wayman, Lincoln; and Allen Zimmerman, Central City.
The huge field of Karl Chevrolet Northern SportMods signed up to compete includes:
Matthew Andrews, Malcolm; Randy Archer, Council Bluffs, Iowa; Adam Armstrong, Beatrice; Jer­emy Baker, Nebraska City; Brian Barber, Platte Center; Scott Bivens, Waverly; Lance Borgman, Beatrice; Karl Brewer, Vermillion, S.D.; Jeff Brunssen, LeMars, Iowa; Terry Callender, Lincoln; Amber Cook, Lincoln; Brock Curtis, Papillion; Dana Deeke, Waverly; Jeremy Down, Nebraska City; Matthew Draper, Bennet; Robert Draper, Valparaiso; and Brandon Ebert, Syracuse.
Joe Feyen, Plattsmouth; Richard Flock, Malcolm; Randy Fox, Lincoln; Preston Gigax, Omaha; Derek Hall, Lincoln; Mike Hansen, Weeping Water; Shawn Harker, Nebraska City; Jason Harms, David City; Tracy Harr, Ashland; Jason Heaps, Lincoln; Dan Jackson, Lincoln; Jarid Jochum, Lin­coln; David Johnson, Columbus; Anthony Kobus, David City; Dion Kovar, Rising City; and Colby Langenberg, Norfolk.
Braydon Latture, Omaha; Mary Lenz, Lincoln; Nick Morris, Bellevue; Steven Muhlecke, Omaha; Derick Noonan, Lincoln; Jeremy Noonan, Dorchester; Trevor Noonan, Dorchester; Rick Pender­gast, Norfolk; Brad Perkons, Waterloo; Devyn Peterson, Milford; Josh Pfeifer, St. Paul; Gunnar Pike, South Bend; Thomas Powell, Hickman; John Riggleman, Omaha; Don Rinke, Lincoln; and Darin Roepke, LeMars, Iowa.
Trent Roth, Platte Center; Gary Saathoff, Beatrice; Bradley Scheidler, Weeping Water; Mike Scheinost, Ceresco; Joe Schidler, Omaha; Ahnna Schouten, Blair; Arie Schouten, Blair; Dillon Schultz, Lincoln; Tony Schultz, North Platte; Roger Sluka, Lincoln; Austin Svoboda, David City; Justin Svoboda, David City; Logan Thomsen, Lincoln; Adam Vrbka, Eagle; Cole Wayman, Lin­coln; and Hunter Weber, Council Bluffs, Iowa.
IMCA Sunoco Hobby Stock drivers making travel plans for the Eagle special include:
Tyler Albracht, Eagle; Roy Armstrong, Beatrice; Chantel Bade, Lincoln; Mariah Bade, Lincoln; Ben Becher, Lincoln; Nick Beckman, Lincoln; Matt Beckner, Lincoln; Travis Blythe, Beatrice; Rick Bradley, Council Bluffs, Iowa; Jamie Bruce, Lincoln; Justin Busboom, Lincoln; David Carter, Fremont; Eric Chab, DeWitt; Jeremy Conkel, Lincoln; Kyle Davis, Hinton, Iowa; and Jeff Dodd, Lincoln.
Tanner Dowty, Fremont; Troy Dowty, Fremont; Brooke Fluckiger, Columbus; Ryan Gilland, Ster­ling; Tristan Grape, Columbus; Don Hall Jr., Lincoln; Tyler Jackson, Lincoln; Jason Kohl, Missouri Val­ley, Iowa; Albert Kiihne, Lincoln; Lee Kracht, Scribner; Brian Langdale, Beatrice; Tim LaPointe, Lin­coln; Brian Lemke, Geneva; Brint Lemke, Lincoln; Mark McKinney, Omaha; Rowan Mason, Lincoln; and Casey Moyer, Auburn.
Luke Nicholson, Omaha; Dillon Richards, Beatrice; Kenny Roberts, Lincoln; Brett Saathoff, Lin­coln; Tyler Saathoff, Holland; Dalton Shearer, Auburn; Shawn Slezak, Milligan; Krysta Stransky, Lincoln; Lance Todd, Lincoln; Kevin Vanlaningham, Beatrice; Adam Vrbka, Eagle; Michael Wade, Dor­chester; Jeff Ware, Columbus; Jeff Watts, Beatrice; Brandon Wergin, Milford; Cody Williams, Minneapolis, Kan.; and Gideon Woodcock, Cook.
And Mach-1 Sport Compact drivers pre-entered are:
Jeremy Bohlen, Percival, Iowa; Devin Bruce, Bennet; Jeremey Byfield, Auburn; Justin Callender, Lincoln; Jeff Creek, Beatrice; Tommy Etherton, Lincoln; Keaton Falk, Lincoln; Austin Gehrig, Lin­coln; John Glasscock, Lincoln; Robert Greser, Fremont; Drew Grobeck, Omaha; Kyle Grobeck, Omaha; Kasha Hall, Lincoln; and Brian Haller, Hastings.
Ray Harrington. Lincoln; Shawn Hein, Beatrice; Tim Horsham, Raymond; Allie Hover, Bellevue; Jared Jackson, Lincoln; Fred Johnson, Lincoln; Josh Johnson, Lincoln; Kyle Kimball, Nemaha; Matthew Lewis, Murray; R.J. Maas, Wilber; John Martinez, Beatrice; Tyler Masek, Raymond; Dan­iel Morris, Bellevue; Steffen Oaks, Lincoln; and Jill Owen, Nebraska City.
Kyle Owen, Nebraska City; Louis Pavey, Douglas; Spencer Pavey, Sterling; Kelly Petersen, Lin­coln; Brian Petro, Exeter; Adam Reifler, Lincoln; Monica Roether, Lincoln; Steven Rol, Hastings; Jeffrey Scott, Blue Springs; Braydon Thornton, Nebraska City; Terry Tritt, York; Bryan Vannausdle, Nebraska City; Nathan Wahlstrom, Beatrice; and Bryce Walker, Omaha.