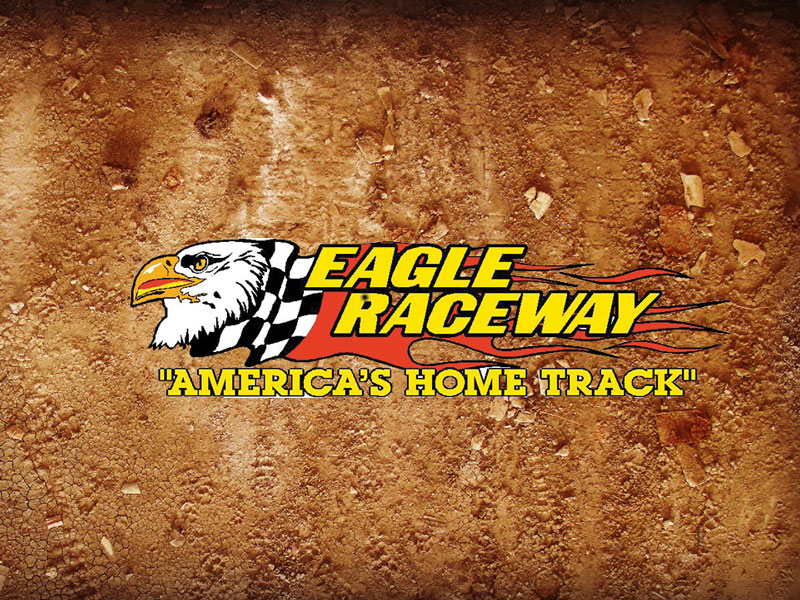 EAGLE, Neb. – Entries for the weekend's Ice Breaker Challenge presented by Auto Trans Matic at Eagle Raceway now number more than 270. 
IMCA Modifieds race for $1,000 to win on Friday, April 19 and for $2,000 to win on Satur­day, April 20. Both events are Fast Shafts All-Star Invitational ballot qualifiers. IMCA RaceSaver Sprint Cars vie for $1,000 to win, and a minimum of $250 to start, their night two Sprint Series of Nebraska headliner.
Karl Kustoms Northern SportMods run for $500 to win both nights. The Modified or Northern SportMod driver winning main events each night goes home with a Twice As Nice $1,000 bonus.
IMCA Sunoco Stock Cars race for $500 to win, IMCA Sunoco Hobby Stocks for $400 to win on Fri­day. Mach-1 Sport Compacts chase a $150 top check on Saturday.
Pre-entered drivers include:
IMCA Modifieds
Chad Andersen, Fort Calhoun
Scott Bivens, Ceresco
Josh Blumer, Marysville, Kan.
Karl Brewer, Vermillion, S.D.
Jason Britton, Lincoln
John Burrow Jr., Denver, Colo.
Travis Denning, Sterling
Mike Densberger, Lincoln
Jared Deterding, Lincoln
Trey Duensing, Byron
Ken Eckhoff, Hooper
Randy Foote, Stanton, Iowa
Jordan Grabouski, Beatrice
Rik Gropp, Lincoln
Chevy Hadan, Bennington
Travis Hatcher, Honey Creek, Iowa
Nick Hermsen, Omaha
Shane Hiatt, Rising City
Clint Homan, Bellevue
Terry Hurt, Fort Calhoun
Ryan Jenkins, Omaha
Kevin Kloke, David City
Jan Korth, Lincoln
Nathan Landauer, Davey
Mike Lineberry, Omaha
Jim Mathieson, Sioux City, Iowa
R.J. Merchant Sioux City, Iowa
Dan Nelson, Holmesville
Jordy Nelson, Marysville, Kan.
Jay Noteboom, Hinton, Iowa
William Nusser, Larned, Kan.
Aaron Pella, Lincoln
Mike Petersilie, Hoisington, Kan.
Tim Pickens, Bellevue
Jesse Richter, Great Bend, Kan.
Anthony Roth, Columbus
Trent Roth, Columbus
Bob Ruisinger, Bennet
Jaxon Saathoff, Beatrice
Johnny Saathoff, Beatrice
Jeff Schroyer, Elkhorn
Pete Shoup, Lincoln
Jesse Skalicky, Fargo, N.D.
Brandon Spanjer, Crete
Larry Sutton, Beloit, Kan.
Tyler Sutton, Beloit, Kan.
Austin Svoboda, David City
Chad Ten Napel, Sioux City, Iowa
Nate Thompson, Fremont
Anthony Valim, Palmer Lake, Colo.
Brandon Verbeek, Hickman
Hunter Weber, Council Bluffs, Iowa
Justin Wulf, Arlington
Justin Zeitner, Malvern, Iowa
Norm Ziegenbein, Lincoln
Bob Zoubek, Dorchester
IMCA RaceSaver Sprint Cars
Aaron Allgood, Lincoln
Tom Belsky, North Platte
Mike Boston, Lincoln
Dwight Carter, Lincoln
Jason Danley, Lincoln
Joey Danley, Lincoln
Tyler Drueke, Eagle
Nick Fricke, Lincoln
Zach Glaser, Cleveland, Minn.
Jimmy Grasso, Omaha
Trey Gropp, Lincoln
Trevor Grossenbacher, Bennet
Adam Gullion, Lincoln
Paul Hendrickson, Lincoln
Tim Hilfiker, Greenwood
Brandon Horton, Waterloo
Mike Houseman, Des Moines, Iowa
Steve Hurst, Fremont
Andrew Jackson, Fremont
Kaleb Johnson, Sioux Falls, S.D​.
Ryan King, Bennet
Ryan Kitchen, Seward
Chad Koch, Lincoln
Cody Ledger, Omaha
Doug Lovegrove, Waverly
Austin McLean, Loveland, Colo.
Jason Martin, Lincoln
Jason Miller, Omaha
Danny Nekolite, O'Neill
Rick Pendergast, Norfolk
Boyd Peterson, Ithaca
Shon Pointer, Grand Island
Dustin Reeh, Council Bluffs, Iowa
Matt Richards, Lincoln
Terry Richards, Denton
Josh Riggins, Lincoln
Stuart Snyder, Lincoln
Kayla Stoops, Kennard
Mark Vanderheiden, Papillion
Richard Weers, Lincoln
Chase Weiler, Lincoln
Nathan Weiler, Omaha
IMCA Sunoco Stock Cars
Darrin Adamy, David City
Doug Adamy, Columbus
Justin Addison, Norfolk
Jeff Atkins, Hubbard
Eric Bartels, Plymouth
Matt Boucher, Murdock
John Bruegman, Elkhorn
Chad Bruns, Wayne
Neil Bruns, Norfolk
Paul Burck, Beatrice
Aaron Cain, Sioux City, Iowa
Scott Carlson, Plattsmouth
David Easterday, Riverdale
Tyler Easterday, Lexington
Garrett Freese, Plymouth
Todd Gereau, Sioux City, Iowa
Jeremie Gibbs, Sioux Falls, S.D.
Jordan Grabouski, Beatrice
Kurt Hansen, Elk Horn, Iowa
Ryan Harris, Hubbard
Gary Laflin, Beatrice
Les Lundquist, Sioux City, Iowa
Jake McCloud, Carter Lake, Iowa
John Meyer, Odell
Tejay Mielke, Norfolk
Tyler Phelps, Beatrice
Dave Plowman, Omaha
Eric Rempel, Palmyra
Damon Richards, David City
David Sherwood, Beatrice
Marty Steinbach, Fremont
Shane Stutzman, Milford
Greg Taylor, Sioux City, Iowa
Kyle Vanover, Beatrice
Barrett Wagoner, Colby, Kan.
Jeff Whiting, Gothenburg
IMCA Sunoco Hobby Stocks
Roy Armstrong, Beatrice
Chantel Bade, Lincoln
Ben Becher, Lincoln
Nick Beckman, Lincoln
Matt Beckner, Lincoln
Ben Belcher, Lincoln
Travis Blythe, Beatrice
Jamie Bruce, Lincoln
Nick Bruegman, Elkhorn
Justin Busboom, Lincoln
Dave Carter, Inglewood
Joe Copeland, La Vista
Kyle Davis, Hinton, Iowa
Tanner Dowty, Fremont
Troy Dowty, Fremont
Brooke Fluckiger, Columbus
Ryan Gilland, Sterling
Robert Gould, Eagle
Blake Haas, Malcolm
Anna Hadan, Omaha
Don Hall Jr., Lincoln
Mike Hansen, Weeping Water
Jacob Harms, Beatrice
Daniel Jackson, Lincoln
Jared Jackson, Lincoln
Tyler Jackson, Lincoln
Aaron Johnston, Lincoln
Colby Kaspar, Columbus
Albert Kiihne, Lincoln
Cole Krichau, Lincoln
Tim LaPointe, Lincoln
Brian Lemke, Lincoln
Brint Lemke, Lincoln
Andrew Lewis, Roca
Nathan Refior, Sutton
Dillon Richards, Beatrice
Brett Saathoff, Lincoln
Tyler Saathoff, Holland
Scott Santee, Omaha
Khrysta Stransky, Lincoln​
Jeff Ware, Columbus
Jeff Watts, Beatrice
Brandon Wergin, Milford
Hunter Wergin, Milford
Karl Kustoms Northern SportMods
Matt Andrews, Malcolm
Jeremy Baker, Nebraska City
Brian Barber, Platte Center
Lance Borgman, Beatrice
Jeff Brunssen, LeMars, Iowa
Amber Cook, Lincoln
Chris DeMara, Sergeant Bluff, Iowa
Patrick Donovan, Sterling
Jeremy Down, Nebraska City
Robert Draper, Valparaiso
Thomas Etherton, Denton
Joe Feyen, Plattsmouth
Richard Flock, Malcolm
Randy Fox, Lincoln
Blake Haas, Malcolm
Jarred Hackler, Juniata
Derek Hall, Lincoln
Jason Harms, David City
Jason Heaps, Lincoln
James Hines, Bellevue
James Hopkins, Waterloo
Tyler Hopkins, Lincoln
Lee Horky, Fairbury
David Johnson, Columbus​
Melissa Knecht, Omaha
Anthony Kobus, David City
Dion Kovar, Rising City
Jake Kubik, Stuart
Colby Langenberg, Norfolk
Braydon Latture, Omaha
Mary Lenz, Elmwood
Sean Manning, Bennington
Rusty Montagne, North Sioux City, S.D​.
Danny Morris, Bellevue​
Nicholas Morris, Bellevue
Steven Muhlecke, Omaha
Derick Noonan, Lincoln
Trevor Noonan, Dorchester
Devyn Peterson, Milford
Josh Pfeifer, St. Paul
Tyler Phelps, Beatrice
Seth Pinney, Homer
Clifford Poessnecker, Lincoln
Thomas Powell, Hickman
Amanda Rhiley, Bennington
Cade Richards, Lincoln
Beau Riffel, Fremont
Gary Saathoff, Beatrice
Mark Saathoff, Beatrice
Deven Schelm, Omaha
Mike Scheinost, Ceresco
Joe Schidler, Omaha
Ahnna Schouten, Omaha
Arie Schouten, Omaha
Brad Schreiner, Weeping Water
Eric Sloan, Norfolk
Roger Sluka, Lincoln
Cody Thompson, Sioux City, Iowa
Logan Thomsen, Lincoln
Kyle Trout, Bellevue
Brett Vonderheiden, Stuart, Iowa
Adam Vrbka, Eagle
Cole Wayman, Lincoln
Mach-1 Sport Compacts
Jeremy Bohlen, Percival, Iowa
Devin Bruce, Bennet
Justin Callender, Lincoln
Brian Cronin, Lincoln
Sarah Cronin, Lincoln
Bradley Gallagher, Louisville
John Glasscock, Lincoln
Kasha Hall, Lincoln
Shawn Hein, Beatrice
Aaron Hickley, Sterling
Brian Haller, Hastings
Ray Harrington, Lincoln
Aaron Hickley, Sterling
Tim Horsham, Raymond
Fred Johnson, Hallam
Josh Johnson, Lincoln
Kyle Kimball, Nemaha
Cole Krichau, Lincoln
R.J. Maas, Wilber
Tyler Masek, Raymond
Luke Nicholson, Ashland
Michelle Nicholson, Ashland
Steffen Oaks, Lincoln
Kyle Owen, Nebraska City
Louis Pavey, Douglas
Spencer Pavey III, Sterling
Kelly Petersen, Lincoln
Adam Reifler, Lincoln
Steven Rol, Hastings
Braydon Thornton, Nebraska City
Amanda Triplette, Washington
Terry Tritt, York
Bryan Vannausdle, Nebraska City
Nathan Wahlstrom, Beatrice
Bryce Walker, Omaha
Makayla Winningham, Lincoln
Joshua Young, Beatrice