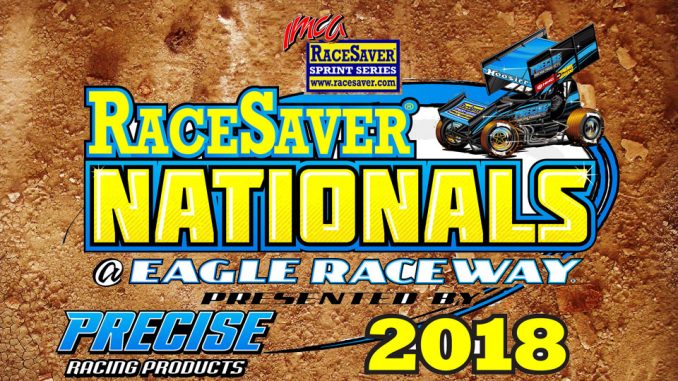 EAGLE, Neb. – Fourteen states are represented by the 117 drivers pre-entered for the Aug. 30-Sept. 2 RaceSaver Nationals at Eagle Raceway.
The winner of Sunday's main event for IMCA RaceSaver Sprint Cars goes home with a minimum of $2,500, plus a bonus of as much as $1,500, $30 for each of as many as 50 sanctioned starts going into the holiday weekend.
Qualifying features on Aug. 31 and Sept. 1 both pay $700 to win while the top prize for Saturday's Jake Ita Memorial race is $1,000. Taking the green in Sunday's big show pays a minimum of $1,250.
The first non-qualifier in the 'B' feature on Sunday gets $1,000 and the 20th place finisher gets $500 from IMCA.TV. A minimum of $450 will be paid to each driver starting a race each day.
Drivers now entered for the sixth annual RaceSaver Nationals include:
Gene Ackland, Martell; Brandon Allen, St. Peter, Minn.; Bruce Allen, Mankato, Minn.; Justin Allen, Gaylord, Minn.; Dusty Ballenger, Harrisburg, S.D.; Ethan Barrow, Bloomington, Ind.; Brett Becker, Odessa, Texas; Tom Belsky, North Platte; Clint Benson, Papillion; Zach Blurton, Quinter, Kan.; Daren Bolac, Moyock, N.C.; Brandon Bosma, Round Lake, Minn.; and Mike Boston, Lincoln
Rick Bray, Lemoore, Calif.; Nick Bryan, Lincoln; Jake Bubak, Arvada, Colo.; Casey Burkham, Com­bine, Texas; John Carney, Lubbock, Texas; Dwight Carter, Lincoln; Toby Chapman, Pan­ama; Clayton Christensen, Spencer, Iowa; Dalyn Cody, Northfield, Minn.; Luke Cranston, Hol­comb, Kan.; Blake Dacus, Fletcher, Okla.; Jason Danley, Lincoln; and Joey Danley, Lincoln.
Michael Day, Greenville, Texas; Keith Dragoo, Greenwood; Tyler Drueke, Eagle; Kenneth Duke, Selinsgrove, Pa.; Matt Etzelmiller, Keller, Texas; Claud Estes, Godley, Texas; Colby Estes, Mans­field, Texas; Daniel Estes Jr., Burleson, Texas; Tony Everhart, El Cajon, Calif.; Monty Ferri­era, Fresno, Calif.; Justin Fifield, Mesquite, Texas; Gary Floyd, San Angelo, Texas; and Tim Fricke, Lincoln.
Bill Garrow, Lincoln; Jesse Graham, Lewisville, Texas; Jimmy Grasso, Omaha; Trey Gropp, Lin­coln; Adam Gullion, Lincoln; Ryan Hall, Midlothian, Texas; Rick Hansen, Omaha; Jaremi Hanson, Dills­burg, Pa.; Jerald Harris, Rockingham, Va.; Rod Henning, Middletown, Ind.; Brandon Hick­man, Lubbock, Texas; Tim Hilfiker, Greenwood; and Bob Hildreth, Iowa Falls, Iowa.
Brandon Horton, Omaha; Mike Houseman, Des Moines, Iowa; Jason Howell, Fort Worth, Texas; Junior Jenkins, Greenville, Texas; Tige Jensen, Lincoln; Kaleb Johnson, Sioux Falls, S.D.; Na­than Johnson, Hastings; Mike Johnston, Des Moines, Iowa; Chris Kelly, Moore, Okla.; Ryan King, Ben­net; Ryan Kitchen, Lincoln; Mark Klis Jr., Waxahachie, Texas; and Cody Ledger, Omaha.
Samantha Lieberman, Southhampton, Pa.; Doug Lovegrove, Waverly; David Luckie, Lubbock, Texas; Scott Lutz, Jonestown, Pa.; Chance McCrary, Farmersville, Texas; Charlie McDonald, Midlothian, Texas; Austin McLean, Loveland, Colo.; Jason Martin, Lincoln; Justin Melton, Lewis­ville, Texas; Michelle Melton, Flower Mound, Texas; Jason Miller, Omaha; Mike Moore, Des Moines, Iowa; and Zachary Newlin, Millerstown, Pa.
Neil Nickolite, Bellwood; Danny Nekolite, Oneill; Rod Ort, Lewisberry, Pa.; Mark Pace, Lincoln; John Paynter Jr., Bloomington, Ind.; Jeff Pendergast, Norfolk; Boyd Peterson, Ithaca; Shon Pointer, Grand Island; Kevin Ramey, Fort Worth, Texas; Dustin Reeh, Council Bluffs, Iowa; Matt Richards, Lincoln; John Ricketts, Burleson, Texas; and Josh Riggins, Lincoln.
Frank Rodgers, Lucas, Iowa; Dan Satriano, Papillion; Logan Scherb, Bowie, Texas; Lucas Scherb, Decatur, Texas; Jeremy Schultz, Stewart, Minn.; Blake Scott, Pauls Valley, Okla.; Trevor Serbus, Olivia, Minn.; Steven Shebester, Mustang, Okla.; Andy Shouse, Oklahoma City, Okla.; Colin Smith, Sheldon, Iowa; Stuart Snyder, Lincoln; Rob Solomon, Fresno, Calif.; and Joey Starnes, Springtown, Texas.
Randy Sterling, Morrisdale, Pa.; Joel Thorpe, Urbandale, Iowa; Josh Toho, Hinton, Okla.; Robert Vetter, Wolfe City, Texas; Ryan Voss, Spirit Lake, Iowa; Charlie Ware, Hallieford, Va.; John Web­ster, North Platte; Chase Weiler, Lincoln; Nate Weiler, LaVista; Dustyn Welch, Bryan, Texas; Chad Wilson, North Richland Hills, Texas; Lorne Wofford, Alamogordo, N.M.; and Ben Woods, Newton, Iowa.
RaceSaver Nationals will be broadcast by IMCA.TV.
Tech inspection begins at 9 a.m. Thursday. Aug. 30. An open practice starts at 6 p.m. and pre­cedes race of champions qualifying. RaceSaver Nationals drivers must be licensed IMCA mem­bers and are required to have competed at a minimum of three IMCA sanctioned RaceSaver events prior to the Labor Day Weekend.
Thomas Weeks from the Discovery Channel's Misfit Garage will be grand marshal for the event. Weeks and his crew will spend the week at Eagle.
Pit passes are $15 on Thursday and $25 each night Friday & Saturday. Sunday pit passes are $30. Dis­counted three-day pit passes are available for $75. Adult grandstand admission is $13 on Fri­day, $15 on Satur­day and $18 on Sunday. Kids ages 6-12 are $5 and five and under get in free each night.
A three-day grandstand pass is $40 and can be purchased online or by calling the Eagle Race­way office at 402 238-2595.
RaceSaver Nationals is presented by Precise Racing Products. Mach-1 Sport Compacts are also on the card Fri­day, Karl Chevrolet Northern SportMods on Saturday and IMCA Sunoco Hobby Stocks on Sunday.