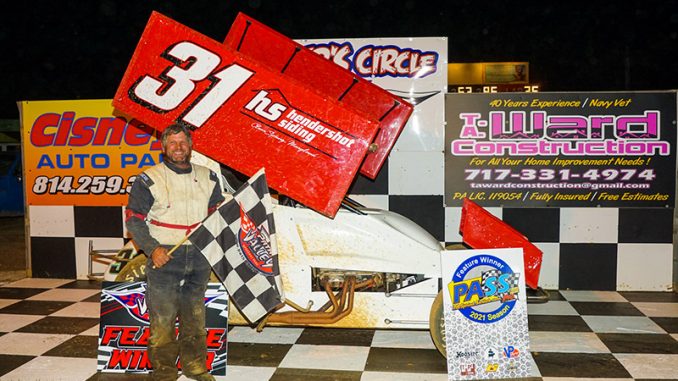 By Frank Buhrman
SPRING RUN, Pa. (May 15) – Donnie Hendershot made Pennsylvania Sprint Series career race number 71 extra special Saturday night, earning victory number one in the 25-lap feature at Path Valley Speedway.
Hendershot, who began racing with PASS in 2013, had a pair of runner-up finishes on his resume but had only run four times in each of the past two seasons and hadn't scored a top five IMCA RaceSaver Sprint Car finish since late 2018. Still, when the opportunity presented, he knew exactly what to do.
After finishing second in his heat race, Hendershot drew the outside second row for the feature. Outside front row starter John Walp darted into the lead but spun in the first turn. That moved Hendershot up to the front row.
The red flag had come out for the double mishap of Walp's spin and a collision between Alyssa Rowe and Tyler Cochran as the field came to a halt. When the race finally got underway for the second start, Hender­shot outpaced Austin Reed and grabbed the lead, stretching it out until lapped traffic closed the leaders.
The lapped cars ended up costing Reed rather than Hendershot, though, as the second-place runner made contact with a lapped machine, pulling a huge wheelie in the process and allowing Jeff Weaver to slip into the runner-up spot, where he finished.
Defending national and PASS champion Garrett Bard also made it past Reed to take third while Reed held on to finish fourth, ahead of Justin Mills.
In victory lane, Hendershot gave special mention to his brother for having stuck with him throughout his racing career.
This Saturday, PASS returns to Selinsgrove Speedway, where the May 8 program was rained out.
Feature results – 1. Donnie Hendershot; 2. Jeff Weaver; 3. Garrett Bard; 4. Austin Reed; 5. Justin Mills; 6. Ryan Lynn; 7. Dom Melair; 8. Jared Zionkowski; 9. Branstin Shue; 10. Ken Duke Jr.; 11. Will Brunson; 12. Jarrett Cavalet; 13. Mikell McGee; 14. Mike Melair; 15. Andrew Boyer; 16. John Walp; 17. Frank Rusnock; 18. Rowdy Heffner; 19. Maria Romig; 20. Kenny Heffner; 21. Dave Wickham; 22. Alyssa Rowe; 23. Tyler Cochran.