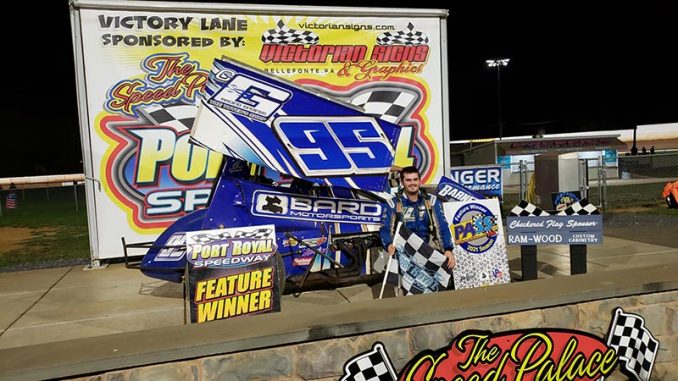 By Frank Buhrman
PORT ROYAL, PA. (Aug. 7) – Garrett Bard won his fifth Pennsylvania Sprint Series race in his last sixth starts Saturday night, taking advantage of his second straight front-row starting position draw and fighting off stout challenges from Kenny Heffner and Tyler Snook to top the 20-lap feature at Port Royal Speedway.
The defending national champion Bard received his final and most serious challenge on a late restart with six laps to go. Rookie Snook dove to the inside and briefly claimed the lead, but Bard's outside power was enough to return him to the top spot and the win.
Kenny Heffner also challenged earlier in the race and re-took second place from Snook in the waning laps. Ken Duke and Dom Melair rounded out the top five.
Forty-six IMCA RaceSaver Sprint Cars contended. Kassidy Kreitz earned the night's hard charger award, coming from the 21st starting position to 12th after winning her "B" main.
This week PASS has two scheduled races. On Friday the Sprinters are part of the Night of Power at Path Valley Speedway and the purse will be bumped to $400 to win and $200 to start. On Saturday they join program at Selinsgrove Speedway.
They return to Port Royal on August 21.
Feature results – 1. Garrett Bard; 2. Kenny Heffner; 3. Tyler Snook; 4. Ken Duke; 5. Domenic Melair; 6. Justin Mills; 7. Rowdy Heffner; 8. Austin Reed; 9. John Walp; 10. Doug Dodson; 11. Devin Adams; 12. Kassidy Kreitz; 13. Dave Grube II; 14. John Fiore; 15. Jake Waters; 16. Roger Irvine; 17. Erin Statler; 18. Mike Melair; 19. Jeff Weaver; 20. George Riden; 21. Logan Spahr; 22. Drew Young; 23. Will Brunson; 24. Andrew Boyer; 25. Justin Clark; 26. Derek Hauck.