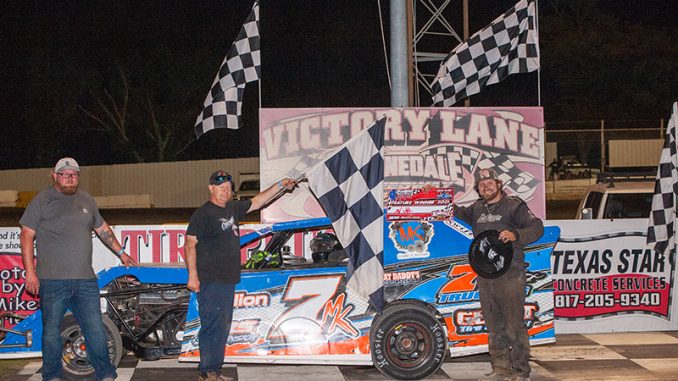 KENNEDALE, Texas (May 15) – Kyle Wilkins picked the right night to get his first feature win of the season while Sean Leasure picked a good night to get his fifth. 
Wilkins earned $1,000 for his Smiley's Racing Products Southern SportMod feature win while Leasure, a high school sophomore, pocketed $800 for his latest Mach-1 Sport Compact checkers Saturday at Kennedale Speedway Park.
While both drivers led start to finish, Wilkins saw his 20-lapper end green, white checkered. The Sport Compact main stayed green after a caution on the initial start and Leasure checked out.
"As soon as I took off, I knew I had to get to the bottom (of the track) and there was no turning back," said Wilkins, the winner ahead of Jake Upchurch, Casey Brunson, David Montgomery and Billy Gould Jr.
"I've been close this year. We've had a lot of seconds," he added. "This is the first one we've pulled off."
The 16-year-old Leasure lined up fourth for the initial green flag. After the yellow flew and the field was realigned, he took the lead on the back stretch and pulled away from his closest contenders.
He worked through traffic and took the checkers ahead of Steven Bevils, Gavin Smith, Frank Lackey and Brandon Underwood.
"I used to only run the high side. I ran a little bit up from the tractor tires," Leasure said. "Going into the night it wasn't about the money. I was thinking about points because I've had some DNFs."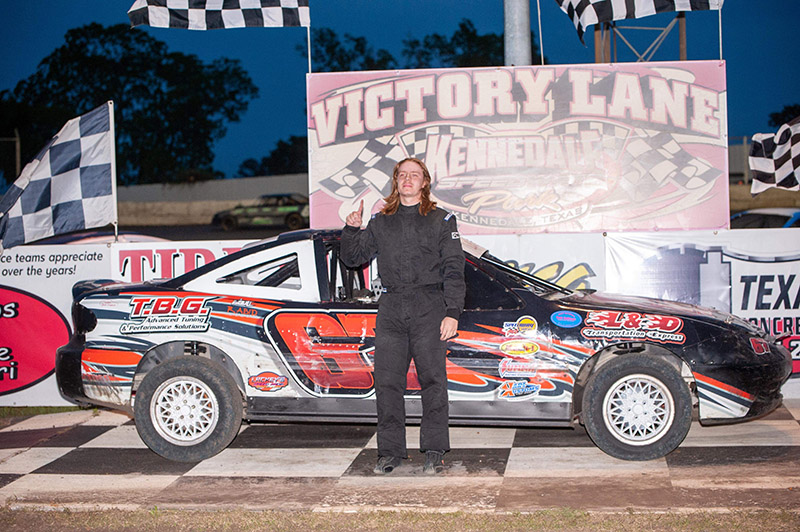 Sean Leasure got back in the points race with his $800 Saturday night Mach-1 Sport Compact victory at Kennedale Speedway Park. (Photo by Karen Davis)
His thoughts turned to points and the 800 bucks.
"I started screaming. I was so pumped up," he said. "This was the first big money race I've ever won."
Matt Guillaume was the IMCA Modified winner and Blake Clark was first to the IMCA Sunoco Stock Car checkers.