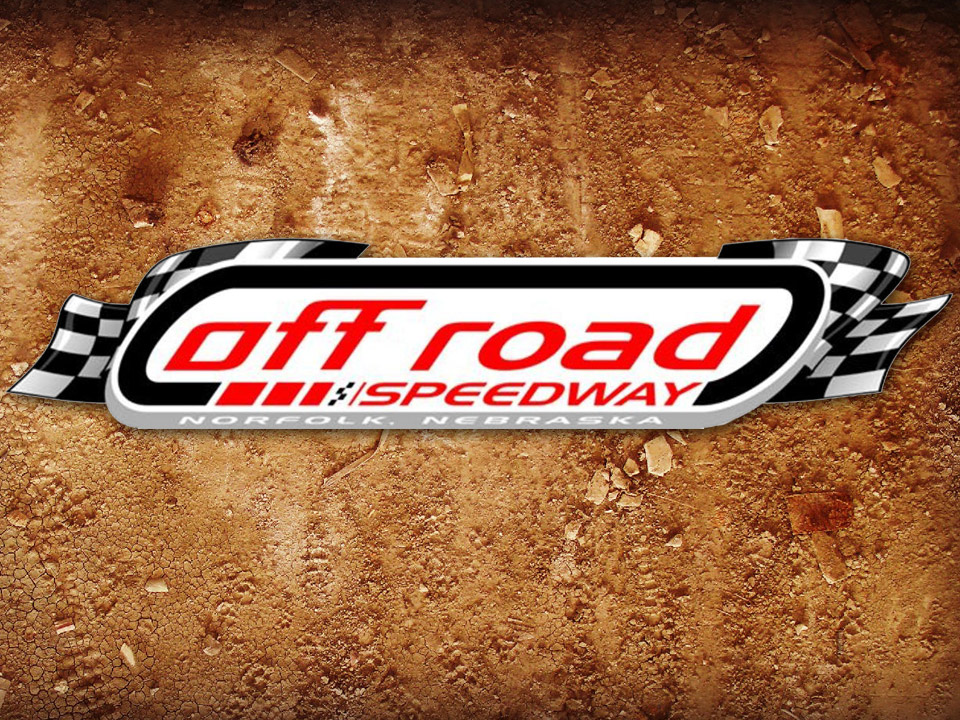 By Randy Pospishil 
NORFOLK, Neb. (May 15) – Saturday night's winners at Off Road Speedway got to the finish line first in a variety of ways.
For example, fans watching the IMCA Sunoco Hobby Stock feature saw what appeared to be race winner Jason Wilkinson moving both higher and lower on the track, evidently blocking the path of the car trailing him, which was driven by Lance Mielke, during the final few laps. But that was not the case.
"I was just trying to hang on, trying to keep control of it. I didn't have any brakes. I lost all brakes with five laps to go," Wilkinson said. "When I'd come in there (to the turns), I'd try to be nice and smooth, but then it seemed like I'd hit a hole and it would bounce around. I didn't have any brakes to calm the car down, there was nothing I could do."
Oddly, Wilkinson said it was the second time the situation had happened this year, although the cause of the problem was different.
"The first time it broke a brakeline off and this time a fitting came loose on the brake caliper, so it just drained the brake fluid off," he said.
However, the fact that Wilkinson was on the track at all Saturday night was surprising after colliding with the wall during a race at US 30 Speedway in Columbus.
"Thursday night we totaled the car out. The frame was pushed to the right about a foot and eight inches up," Wilkinson said. "We worked and worked most of the day Friday to get it ready, but if it wouldn't have been for Renners (Auto Body) it wouldn't have been here, for sure."
Wilkinson added that having a damaged frame has a strange way of helping him win races.
"When we were there I said we're going to see if this is true. I don't know why it is, but this is the eighth car that I've had the frame bent on," Wilkinson said. "Every time I've had the frame bent, the next night I win, and it happened."
Despite his race-long efforts, Mielke finished third after Ryan Fajman mounted a late rally to edge Mielke at the finish line.
Even though he led all but one of the 25 laps in the IMCA Sunoco Late Model feature, Jim Johnson had to deal with four cautions that brought the field to his rear bumper before earning his first win of the season, including a caution that produced a green, white, checkered finish.
Johnson held off the final challenge of Nelson Vollbrecht, who had tried multiple times to pass during the final 10 laps, including one successful pass when Johnson's car skidded off his intended line and up the track that was negated by a caution elsewhere on the track.
"I knew he'd be low and I knew no matter what that he would stay there, and I was probably going to stay high, and he knew that," Johnson said. "We weren't going to get together or anything, because we were going to keep our own lines. It was a good race, though. He's a good friend of mine."
"The one caution helped me, but the second to last one probably hurt me," he said. "That's part of the game."
Vollbrecht finished second while Jon Haase took third.
Ryan Harris won for the first time at Off Road Speedway, taking over the lead four laps into the IMCA Sunoco Stock Car feature, then pulling away from the field to win be several car lengths while Jeremy Hoskinson came out on top of a multi-car battle for second behind Harris. Tyler Iverson took third.
"It's been a rough day. I left at four o'clock Friday morning to go to southern Arkansas to pick up my new car. I just bought a new Cadillac chassis and got home at 2 o'clock today, then decided we were going to go racing," Harris said. "But the car just was really good tonight."
"This is my third time here this year," Harris said. "I honestly believe that you're as good as the guys you race, and I always want to be better. I want to race the fast guys and maybe, potentially, someday be one of those fast guys."
In a closely-contested Karl Kustoms Northern SportMod feature, David Johnson won for the second time at Off Road Speedway this season, coming from the middle of the 14-car field to get the lead with half of the 18-lap race remaining and stay there despite a caution that brought the field to his rear bumper with five laps left.
Keegan Nordquist edged Cameron Meyer, who finished in the top five for the fourth straight week.