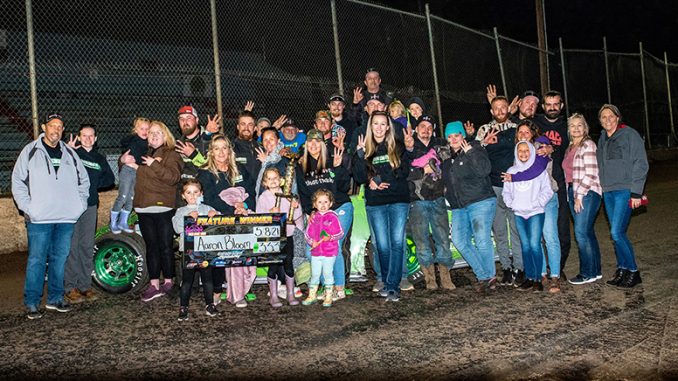 By Stephanie Deatherage 
COTTAGE GROVE, Ore. (May 8) – Cottage Grove Speedway had the second round of Mother's Day Weekend racing on Saturday, May 8 and the Karl Kustoms Northern SportMods boasted a massive 27 cars in the pit area.
The main event was a relatively caution-free affair of the 20-lap feature. Aaron Bloom secured the top place position on opening start and began to take off from the rest of the contingent.
Two stoppages occurred through the course of the main event. The first yellow was on lap two, with the second and final one taking place on lap 11. The final caution bunched the field up close together and brought some challengers that threatened Bloom's reign.
After the restart, David Schmidt tried to overtake Bloom but could not wholly perform the pass. Schmidt eventually had his hands full with a charging Jorddon Braaten. Braaten passed Schmidt and was on the attack against Bloom with a few circuits remaining.
Braaten briefly went side by side with Bloom for the top place position. But despite the pressure, Bloom stood firm and remained clutch to beat Braaten to the line. It was an emotional victory for the Bloom Family Racing team as they raced with heavy hearts with the recent passing of Aaron's uncle, Ralph, and won the $333.33 in his honor.
His second win of 2021 at Cottage Grove is his second in KMJ Performance Oregon State action. It is Bloom's first victory since April 17 and he is the first repeat winner at CGS in the Northern SportMods.
Braaten, despite having to start last, wound up second and Schmidt was third.
For the Mach-1 Sport Compacts, Rex Eckley showed the way on lap one. Burnie Bryant managed to cap­ture first place on lap two. Bryant paced the balance of the distance to win his third race of the season at Cottage Grove and in KMJ Performance Oregon State competition.
Bradley Martin was the runner-up and Kerry Cooper got third.