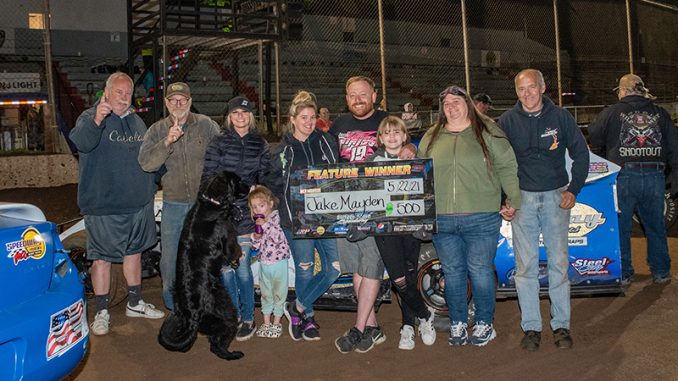 By Stephanie Deatherage  
COTTAGE GROVE, Ore. (May 22) – Fans had the IMCA winning efforts of Jake Mayden, David Schmidt and Brad Martin to appreciate on Fan Appreciation Night Saturday at Cottage Grove Speedway.
The IMCA Modifieds had an action-packed, 25-lap feature. Jeffrey Hudson stormed to the front at the drop of the initial green flag and remained out in front for quite a bit of time until Mayden overtook him on lap 19.
Mayden fended off a hard-charging Bricen James to earn his second consecutive win in the class. Curtis Towns ended the night third, Matthew Drager came to the line in fourth with fifth going to Chad Groves.
Jordan Henry was the initial leader in the 20-lap Royalty Core Karl Kustoms Northern SportMod main event. Henry stayed there for most of the first half of the race but eventually was overtaken after a re­start. Schmidt was the one to perform the pass after starting 14th and secured the top place position on lap nine.
Schmidt wasn't entirely out of the woods yet as he had to deal with three cautions. Despite the slowdowns, he went on to win his first race of the season at Cottage Grove.
Dustin Comer and Shawn Hand were second and third in the finishing order. Jordan Henry ended the race fourth over Aaron Bloom.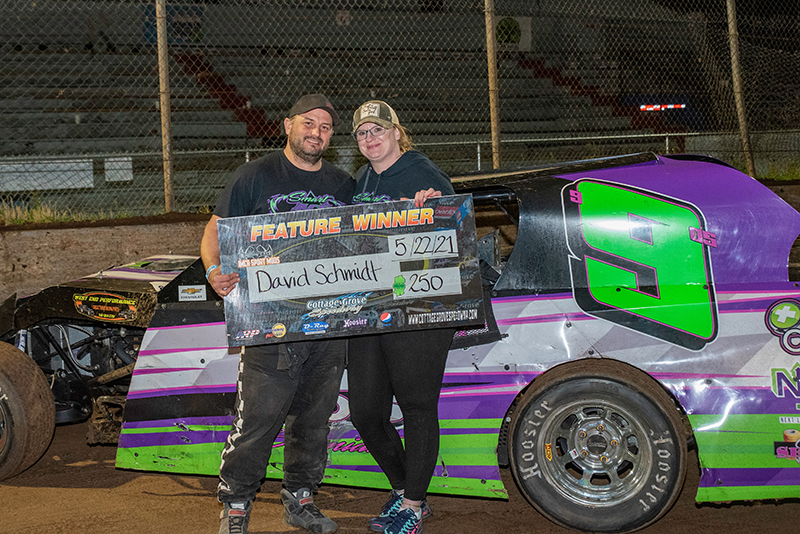 David Schmidt motored from 14th starting to take the lead before midway and stayed in front to the finish of the Saturday main event for Karl Kustoms Northern SportMods at Cottage Grove Speedway. (Photo by JRP Racing Photos) 
For the 20-lap Mach-1 Sport Compact main event, Michael Kennerly got off to a fast start. Kennerly had to deal with several yellow flags, which took lapped traffic out of the mix for a while. However, Martin got by Kennerly shortly after a lap seven restart.
Martin stayed in front the rest of the distance to win his first career Sport Compact main event at Cottage Grove Speedway. He is the third different victor in six races this season at The Grove.
Kennerly hit the line second while Kerry Cooper got third. Barry Cannon was fourth with fifth going to Tiffany Towns.
Cottage Grove Speedway returns to racing on Saturday, May 29. Divisions in action include the IMCA Modifieds and Karl Kustoms Northern SportMods. Sunday will have the return of the Mach-1 Sport Com­pacts. For more information, log on to the track website and Facebook page.