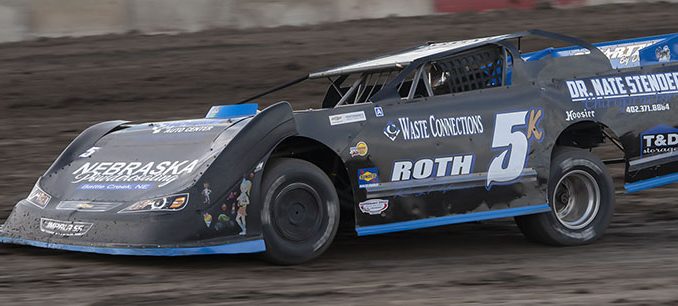 By RANDY POSPISHIL 
NORFOLK, Neb. (May 1) – Even experienced and successful dirt track drivers surprise themselves on occasion.
That was the case for Kyle Prauner and Cameron Meyer when each won features at Off Road Speedway on Saturday night that they didn't necessarily expect to win, albeit for different reasons.
Prauner, who had 141 wins driving in the Karl Kustoms Northern SportMods, is competing in the IMCA Sunoco Late Model division this season and won for the first time.
"We've always wanted to run Late Models but I never honestly felt that we'd be able to afford a Late Model," Prauner said. "We scoured the web and found a car. It's a 2012 so it's probably older than most of them that are out there (on the track). Everything in it, like the motor and transmission, is used."
"But we've got a good friend, Cory Dumpert, who helped us out getting it set up with all the right equipment," he added. "He's had a lot of success and he was gracious enough to help us out. I wouldn't be anywhere near what we did so far this year without him. I can't thank him and the sponsors enough, they're all a part of this."
Robert Osborne, who started on the pole, led until Prauner pulled even coming out of turn two, and the two sped down the backstretch side by side with 17 laps left. Prauner then took the lead on the outside and, with the field well behind them, held off Osborne for the win.
Osborne finished second while Devin Johnson was third.
"The car definitely did whatever we needed it to tonight. We could run on the topside there to get the lead and it was just rotating the bottom so well," Prauner said. "We're pretty excited to get her in victory lane already, our second night here (at Off Road Speedway)."
Meyer, who is racing primarily at Off Road Speedway this year, had finished second and third in the sea­son's first two races but took advantage of the restart following a caution with three laps remaining to win the Northern SportMod feature.
Tyler Afrank, who had gotten to the front midway through the race and led nine consecutive laps, was out front during the restart with Meyer and Jeremy Gnat aligned side-by-side behind him.
As the return to racing began, Meyer saw an opening as the cars came out of turn four and was able to burst past Afrank on the low side of the track in the front stretch.
He then held on to the lead during the final laps, while Afrank edged Gnat in the battle for second and third behind him.
"Normally, I am not good on restarts, like, it's my weakest thing. I'd tell anybody that," Meyer said. "I was waiting and waiting, and I didn't think he was coming down, so I just went. I guess you've got to get lucky every now and then."
"The car's been really good. We didn't race a lot last year," he continued. "We were good, but getting to race a little more this year – we're definitely on top of our game right now. It was pretty cool; I didn't think I was going to win myself."
Chad Bruns led all 18 laps of the IMCA Sunoco Stock Car feature, building a commanding lead to finish ahead of Fred DeSive and Ron Pettit.
In the IMCA Sunoco Hobby Stock feature, Jim Kimmel won a race-long battle with Nate Buck to finish first with Buck taking second. Meanwhile, Dylan Fitzpatrick was able to edge Shannon Pospisil at the finish line to earn third place.