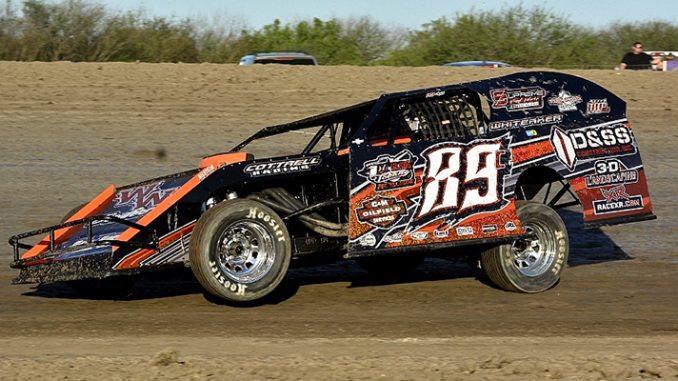 By J.M. Hallas 
PLEASANTON, Texas (April 24) – Steve Whiteaker won a wild one Saturday at I-37 Speedway, charging from the back of the IMCA Modified field to the front after an early spin.
Seventeen cars took the green for the 20-lap feature with Raymond McSpadden from the outside row first into turn one to lead chased by Ryan Doyon, Whiteaker, Cody Tidwell and Dillon Tindall. Whiteaker got second from Doyon and was trying the high side when he made a rare mistake, looping it in turn four.
While a bad break for Whiteaker, it was a good break for fans watching him charge his way back through the field. On the restart, it was Tindall getting too high in turn four and falling back in the pack while Doyon was looking low on McSpadden for the lead. Doyon got past to lead lap five with Trevor Egbert taking third from Jared Maupin.
Egbert then took second from McSpadden, while Whiteaker was already back to sixth taking the spot from Talon Minten. Egbert caught Doyon with the two side by side and Egbert snagging the point on lap eight as Whiteaker passed Tidwell for fifth, then McSpadden for fourth.
At halfway it was Egbert, Doyon, Maupin, Whiteaker and McSpadden in the top five.
On lap 12, turn four got Maupin as he went around from third for a yellow. On green, Whiteaker went around Doyon for second while Tindall, Swenson and McSpadden were three wide for sixth. Whiteaker, still running the top, was able to catch and pass Egbert for the top spot on lap 13. That's from last to the lead, in 12 laps!
McSpadden and Swenson were in another three-wide fight, this time with Maupin, as he made his way back to the front. Tindall slid too high again in turn four and jumped back on track clipping Swenson sending him hard into the front stretch wall on lap 17.
Once back to green, Whiteaker quickly began easing away from Egbert while Maupin took fourth from Tidwell and was side by side with Doyon for third, taking the spot a lap later. Whiteaker had increased his margin on Egbert as the white waved going on to win.