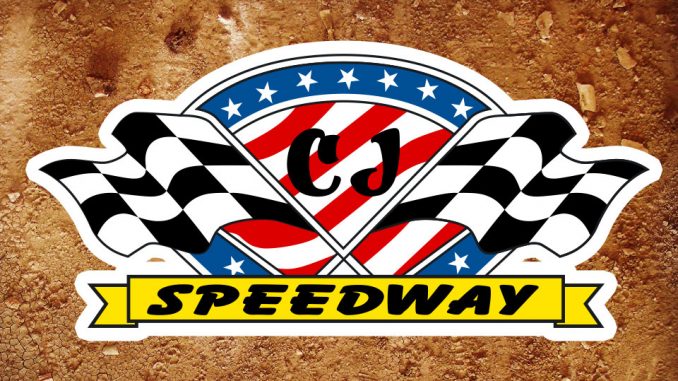 By Jerry Mackey 
COLUMBUS JUNCTION, Iowa (April 23) – Night number two of the racing season at the CJ Speedway was held Friday with another great field of competitors on hand for an exciting night of racing which featured several close finishes.
The headliner of the night was the IMCA Sunoco Stock Car feature. The 20-lap feature was paced early by pole sitter John Hemsted, who was hounded by several of the best in the division. Hometowner Rod Staats broke out of the pack and took over the top spot as the race passed the midway point.
Staats went on to score the hard fought victory ahead of ninth starting David Brandies. Opening night winner Jason See advanced from 12th to take third ahead of the hard charger of the race Nathan Wood who battled to a fourth place finish after starting 21st. Staats was elated to finally score a win at his hometown track as the win broke a dry spell of at least five years.
Derrick Stewart scored his second consecutive feature win in the IMCA Modifieds. Stewart started ninth and steadily moved to the front overtaking leader Dakota Simmons on lap 11 of the 20-lap main. Stewart went on to score a close win over a fast-closing Jarrett Brown. Simmons held on for third ahead of Brandon Banks.
The Karl Kustoms Northern SportMod feature saw 20 drivers line up for the main event. Shaun Slaughter led the first half of the main before ninth starting Colton Livezey was able to grab the point position. Livezey went on to score the win over week one winner Shane Paris. Slaughter took third just ahead of Levi Lay­mon.
The Mach-1 Sport Compacts continue to provide exciting racing at the CJ Speedway. Friday night's main event was won by Jake Benischek, who raced to the front from a seventh position start. Benischek raced to the checkers just ahead of Cody VanDusen and Tim Long.
The IMCA Sunoco Hobby Stocks saw 16 drivers take the green for the main event. The new division to the CJ Speedway has already established itself as a great group of drivers that are going to provide very en­tertaining racing. Friday night's main event win went to Daniel Wauters, who scored a very hard fought win over Aaron Martin. Third place went to the week one winner Randy LaMar.