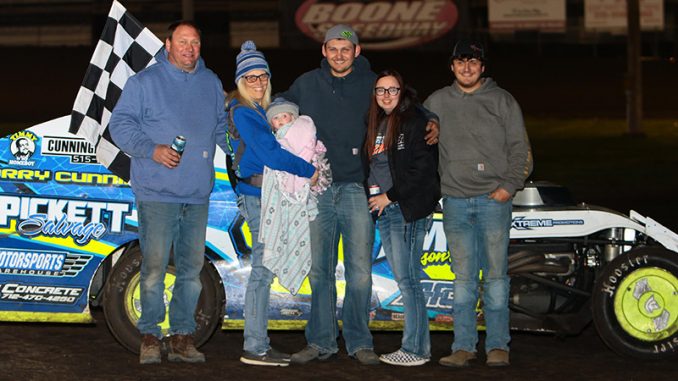 By Joyce Eisele
BOONE, Iowa (April 24) – It was weekly racing series number three at the Boone Speedway on Saturday night with IMCA Modifieds, IMCA Sunoco Stock Cars, Karl Kustoms Northern SportMods, IMCA Sunoco Hobby Stocks and IMCA STARS Mod Lites in competition.
The 25-lap Modified feature was a spectacular event. D & E Outside Services had put up $3,000 to a driver opting to start at the tail of the feature and win. Jet Racing threw in an additional $500 making for a possible $3,500 payday. Five drivers went to the rear, Jimmy Gustin, Tim Ward, Ricky Thornton Jr., Joel Bushore, and Paul Nagel. Another incentive was for those drivers passing the most cars that didn't win would get $750.

Clint Wendel held down the top spot for the first two circuits, but Jake McBirnie came calling on lap three, flying into the lead. By lap 10, the talent of Thornton was shining through, as he had made his way into third place and just three laps later, had the lead. Thornton then rocketed off, only to drive it off of the top of turn one with a mechanical failure, putting himself out of the game.

When the race returned to action, McBirnie had inherited the top spot, with Nick Roberts, and challenge taker Ward in tow. Ward just nosed out McBirnie for a brief moment, only to have McBirnie come right back into the top spot. The closing laps were tight but McBirnie held out on this night and took the double check­ers with Ward a close, close second. Roberts finished third, last week's winner Cory Sauerman came from 10th spot to finish fourth and Mike VanGenderen from 13th to finish fifth.
Joel Huggins started on the pole and led all 15-lap of the Mod Lite feature to take the win. Jon Braathun was second, just beating Joe Glick at the line. Fourth went to Mike Kennedy and Josh May took fifth.
The 18 lap Northern SportMod feature was marred by yellow flags and shortened due to the time limit. Dusty Lynch was leading when drivers were told on a yellow flag at lap 10 they were under the time limit and would race to the checkered flag or the next caution, whichever came first. By this time, Johnathon Logue had made his way from 13th starting spot and into the runner-up position.
When the race restarted, Logue applied pressure to Lynch and finally made his persistence pay off, getting the lead at lap 14. That 14 lap would be the final as another yellow flew and the race was called com­plete. Lynch had to settle for the runner up spot, Colby Fett finished third, fourth went to Tyler Titus, and Rocky Caudle hard charged his way to fifth from the 22nd starting position.
IMCA Sunoco Stock Cars ran green to checkered in their 20-lap feature. Shane Stoneburner looked to be on his way to a victory as he circled the lip of the track but Devin Smith had other ideas as he moved from 12th starting to overtake Stoneburner with five laps to go.
From there on it was all Smith's race, scoring the easy win. Kyle Everts, who led the opening laps, was second, Stoneburner was third, Jeff Mueller 11th and finished fourth and Tony Hofbauer rounded out the top five.
The IMCA Sunoco Hobby Stocks also put together a caution-free 15 lap main event. Braden Richards started fourth and had the lead at lap one, never to relinquish it on his way to the checkers. Solomon Ben­nett and Jack Phillips ran at the front all race long and finished second and third respectively. Luke Ramsey and Eric Stanton completed the top five.