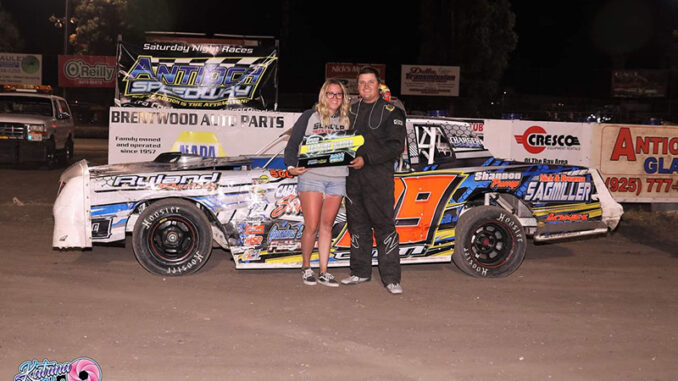 MERCED, Calif. (Aug. 29, 2022) – California drivers have enjoyed their share of success and then some at recent IMCA Speedway Motors Super Nationals fueled by Casey's. 
Fourth generation and third-year IMCA Sunoco Stock Car driver Garrett Corn travels to Boone in September, looking to be the next Golden State speedster to do so in the state where corn is king.
The Merced pilot has enjoyed a breakout season in the division, with five wins and another nine top five finishes in 23 starts.
"This is going to be quite the adventure," said Corn, who will make the nearly 1,900 mile one-way trip for the 40th annual Super Nationals with crewman Tyler Irwin. "It feel like we're on a bit of a roll, so this is a good time to go to Boone."
"Drivers from California have been doing pretty good at Super Nationals. Ethan Dotson and Cody Laney have both won the Modified championship," he noted. "I would be stoked if I could make the Stock Car main event. If I could do that, it would be awesome."
Corn followed great grandfather Paul Sr., grandfather Richie and father Nathan into the sport and onto the track at Merced. He ran go karts and micro sprints before winning rookie of the year honors in 2016 and then a whopping 17 features in a West Coast hobby stock class in 2017.
"We traveled up and down the state racing the hobby stock. The class was really similar to the IMCA Stock Car," he explained. "The biggest differences were in springs and shocks, and the Stock Car has more horsepower."
Corn ran his first two IMCA seasons in a homebuilt car, getting a pair of wins last year.
He picked up a new car at Charger Chassis in Rising City, Neb., last fall.
"This is the nicest car I've ever owned," said Corn, who debuted the new ride at Cocopah Speedway in January and has since sharpened his skills behind the wheel at five different California ovals. "The biggest thing I've learned this season is when and when not to be aggressive. With less contact and no flat tires you can be up front toward the end and not struggling halfway through."
His first win in the new ride came on April at home track Merced. Corn's $1,700 checkers in the May 5 Central California Clash show at Thunderbowl Raceway made him eligible to qualify for the B & B Racing Chassis All-Star Invitational.
"We had a lot of fun during the California tour. I took a week off work (as a facility maintenance engineer for the City of Merced), we got second in points and won the big money night at Tulare," said Corn, a three-time winner at Antioch since. "It was a good week for us."
Second in California state points and in the top 20 in the EQ Cylinder Heads Southern Region, Super Nationals contender Corn will be cheered on from home by fiancée Taylor Schaller and his little crew chief, son Hudson, who turned one this month.