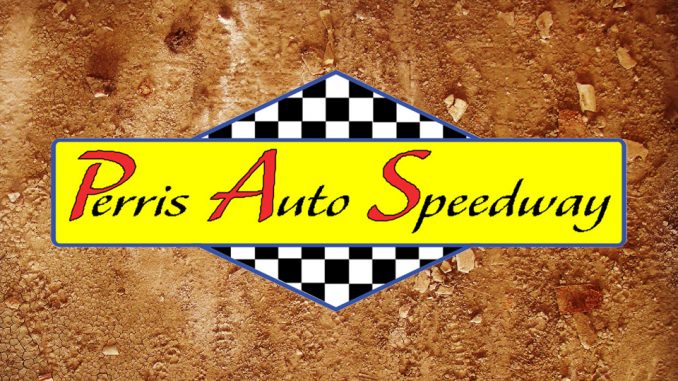 By Scott Daloisio
PERRIS, Calif. – For dirt track-starved racing fans and drivers in Southern California, the long wait is finally over!
This Saturday night, April 17, Perris Auto Speedway will re-open its doors after more than a year off due to the Covid-19 pandemic. The show will feature IMCA Modifieds in a 25-lap, $1,500 to win Fast Shafts All-Star Invitational ballot qualifying event.
That will be the standard winner's purse for 11 of the 12 PASSCAR/IMCA shows in 2021. The only race with different winner's purses will be on the 25th anniversary Fan Appreciation Night on Oct. 16. That even­ing the Modified winner will get $2,500.
Spectator gates for the night of racing and family fun will open at 5 p.m. with the first green flag at 7 p.m. Tickets are available online at the following link tix.com/ticket-sales/pas/7. There will be no walkup ticket sales for this event.
The last racing event at the famous Riverside County half-mile clay oval was Night of Destruction in early March of 2020. However, the show the following week was canceled due to Covid. Then the rest of the 2020 season followed suit and was canceled as was the first month of the 2021 schedule.
"It will feel so good to get back and start racing again," promoter Don Kazarian said. "Last year was sup­posed to be our 25th anniversary season and everybody was looking forward to it. Then Covid hit and put a halt to everything. It was so frustrating not only for us but for all the drivers and fans as well. We plan on having a lot of fun this year with some special things planned for the fans and the drivers."
One difference to start the season will be COVID mandates that will apply until further notice.
"We will have to comply with Covid mandates," Kazarian said. "Masks, social distancing from those that are not in your group, concessions only available via app (FanFood which is a free app) and tickets will only be sold online (tix.com/ticket-sales/pas/7). Tickets will be available online until 7 p.m. race night. We will not have walkup ticket sales until we receive permission to do so. Most of all, we want to be sure everyone stays safe."
Fans will order food from The PAS concession via the FanFood app. After they order and pay through the app, they will receive a text when the order is ready. It will be available to be picked up at a designated station near where they are sitting in the grandstands.
For competitors, the pit gate will open earlier than normal at noon this Saturday. For 2021 PASSCAR mem­berships, drivers can print and fill out the form at home to speed up times spent at the back gate. The form can be downloaded at the following link http://www.perrisautospeedway.com/2021/membership.pdf.