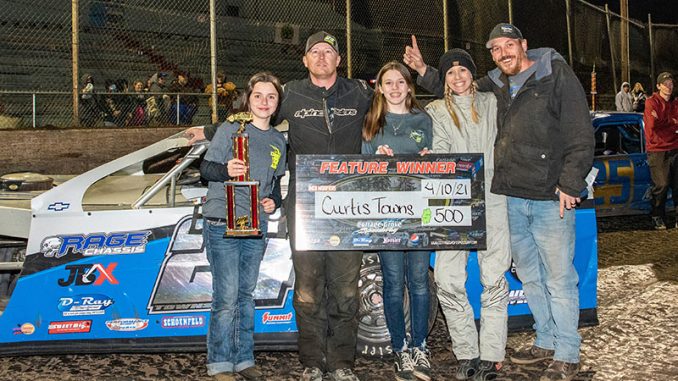 By Stephanie Deatherage
COTTAGE GROVE, Ore. (April 10) – Curtis Towns was the winner of a green to checkered IMCA Modified main event Saturday at Cottage Grove Speedway.
Matthew Drager set the pace from the get-go but was soon in an exciting battle with Paul Rea. Rea, the long-time racer from Eugene, got around Drager on lap two only for Matthew to reclaim the top spot, on lap seven. Drager held first place for some time until Paul once again got around him on lap 11.
Rea paced the field at a rapid pace using the high side of the race track. Slowly but methodically a couple cars gave chase including Towns. On lap 23, Towns worked the bottom of the race track, seizing the top place position and going on to win his first race of the year.
Rea ended the night in second with third going to Bricen James.
The Karl Kustoms Northern Sport Mods were in the house for the first time in the new campaign. Dustin Comer showed a lot of speed and managed to stay out in front after obtaining first on the initial start. Just two yellows were to be seen but Comer kept up his dominance as he went on to pick up the victory.
Brothers Matt and Isaac Sanders were second and third, respectively.
In the Mach-1 Sport Compacts, Andrew Langan was the trailblazer at the drop of the green flag. Langan held on to the point until lap six. Burnie Bryant made the pass on Langan shortly after a restart. Bryant was looking to make it two consecutive wins in the class but he would be overtaken on lap 13.
Brad Moffitt was the one to make it around Bryant but Moffitt had his hands full with a hard-charging Michael Kennerly. Kennerly got around Moffitt on the 14th trip past the flag stand. Kennerly held on to win the race ahead of Moffitt and Kerry Cooper.