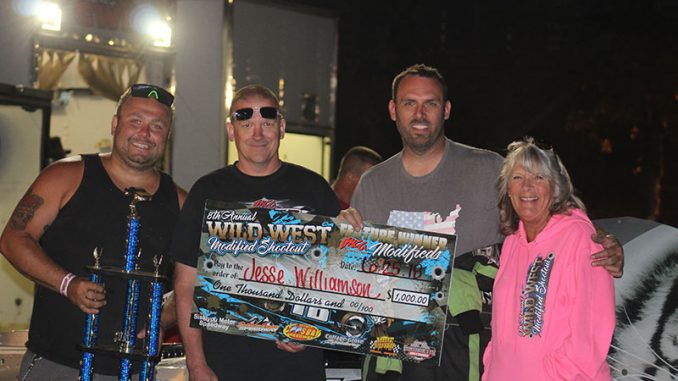 By Ben Deatherage
COTTAGE GROVE, Ore. (June 25) – The latest installment of the 2018 Wild West IMCA Modified Shootout ended with the fourth different winner in as many events.
Four-time and defending tour champion Jesse Williamson topped Monday's feature at Cottage Grove Speedway. The $1,000 victory was his tour career 11th and third at Cottage Grove, and came despite the best efforts of challenger Bricen James.
The new Fast Shafts All-Star Invitational ballot candidate seized the early lead and took off right from the get-go. Williamson was tracked down and passed on lap 14 by James, who lost the lead to Williamson on the following circuit.
Shortly after a lap 21 restart, James made a pass Williamson again and the battled hard the rest of the way. Williamson regained the coveted top spot on lap 26 and held off James at the line for the victory.
James was followed across the stripe by John Campos, "B" qualifier Grey Ferrando and Curtis Towns was fifth. Forty entries from five states and Canada necessitated three consolation fea­tures.
The Wild West Modified Shootout remains at Cottage Grove Speedway for a second straight night on Tuesday. Racing begins at 6:30 p.m. The track will offer a $10 carload special for grand­stand admittance.
Feature results – 1. Jesse Williamson; 2. Bricen James; 3. John Campos; 4. VGrey Ferrando; 5. Curtis Towns; 6. Ethan Dotson; 7. Jake Mayden; 8. Craig Hanson; 9. Brian Wulfenstein; 10. Dustin Cady; 11. Ron Wilson; 12. Jeff Faulkner; 13. Steven Sturdevant; 14. Dave Duste Jr.; 15. Preston Luckman; 16. Danny Lauer; 17. Evan Britton; 18. Mark Wauge; 19. Collen Winebarger; 20. Aaron Sheelar; 21. D.J. Shannon; 22. Kevin Williamson