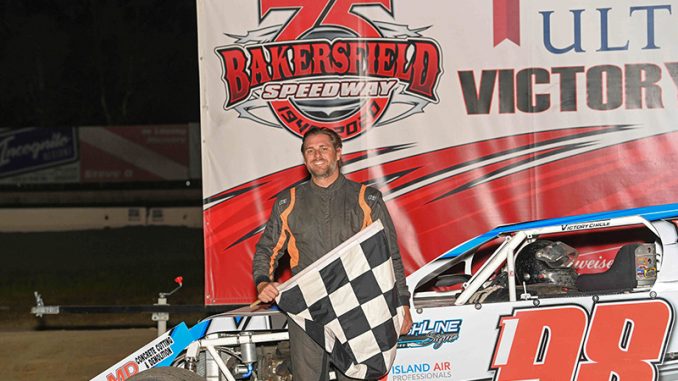 By Ben Deatherage 
BAKERSFIELD, Calif. (April 10) – Robby Sawyer and Zack Forster bested their respective IMCA features at Bakersfield Saturday evening.
In the IMCA Modified main event, the early goings were dominated by Steve Noland, who held onto first until being overtaken on the fifth lap by Troy Morris III. Morris was the lead element of the field until he was passed on the eighth circuit. The driver to do that was Sawyer.
Sawyer then began building a massive lead over the rest of the pack. The 30-lap affair would go non-stop and nothing stopped the fifth-starting Sawyer from collecting his first win of 2021.
Ethan Dotson rallied from 19th starting to finish in second place while behind him, in third, was Morris. Making it an all-Bakersfield top five, Jerry Flippo crossed the wire fourth followed by Kyle Heckman in the Bill Henderson-owned entry.
Cade Lewis showed the way early in the IMCA STARS Mod Lite feature. A lap one incident bunched the field and prevented Lewis from getting too far from the rest of the competition. On the restart, Forster propelled his vessel to the front to capture first place on lap two. There would be one more stoppage, on the fifth trip past the flagstand, but for the most part, the race went incident-free.
Forster briefly experienced a little bit of pressure from Phil Barrow but kept Barrow in check and dominated the rest of the distance.
Barrow was second with Tim Varney placing third. Colby Lewis and Candi Varney were fourth and fifth in the finishing order.