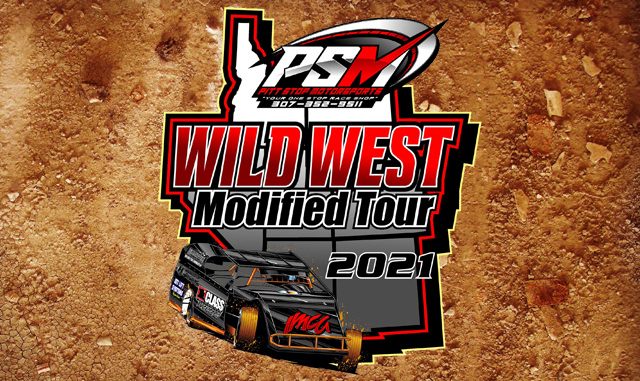 BATTLE MOUNTAIN, Nev. – After making a first-ever trip to Arizona for its season-opening doubleheader, the IMCA Pitt Stop Motorsports Wild West Tour travels to a more familiar racing locale this weekend.
IMCA Modifieds, IMCA Sunoco Stock Cars and Karl Kustoms Northern SportMods are on Friday, April 16 and Saturday, April 17 cards at Nevada's Battle Mountain Raceway.
Modifieds race for $1,000 to win Fast Shafts All-Star Invitational ballot qualifying features both nights. Stock Cars and Northern SportMods both race for $750 to win, with top money in the Stock Car features upped to $1,000 with 30 or more entries.
Racing starts at 6 p.m. and both programs will be broadcast by IMCA.TV. In addition to special series points, IMCA Speedway Motors Weekly Racing National, regional, KMJ Performance State and track points will be awarded.
The tour has made eight previous visits to Battle Mountain, the most recent of them in July of 2019.
Chaz Baca and Kollin Hibdon were Modified winners in the opening weekend at Cocopah, Ariz., Speedway. Zane DeVilbiss was a double winner in the Stocks and Michael Johnson swept the SportMod shows.
Top Ten Tour Point Standings
Modifieds – 1. Chaz Baca, Mesa, Ariz., 79; 2. Darrell Hughes II, Manteca, Calif., 77; 3. Jonathan Mawhinney, Las Vegas, Nev., 71; 4. Wade Taylor, Spring Creek, Nev., and Steven Daffern, Brawley, Calif., both 68; 6. Chase Hansen, Myton, Utah, 67; 7. Jeremy Thornton, Casa Grande, Ariz., 64; 8. Kollin Hibdon, Pahrump, Nev., 62; 9. Randy Sandvick, Killdeer, N.D., 57; 10. Duane Rogers, Imperial, Calif., 56.
Stock Cars – 1. Zane DeVilbiss, Farmington, N.M., 80; 2. Scott Sluka, Casa Grande, Ariz., 77; 3. Chase Berkeley, Colville, Wash., 75; 4. Leslie Gill, Odessa, Texas, 71; 5. Gene Henrie, Cedar City, Utah, 70; 6. Zack Simpson, Hoquiam, Wash., 66; 7. Larry Bridger, Apache Junction, Ariz., and D.J. Werkmeister, Mesa, Ariz., both 64; 9. Ron Brewster, Spokane, Wash., 63; 10. Levi Card, West Valley, Utah, and Aaron Spangler, Dove Creek, Colo., both 60.
Northern SportMods – 1. Michael Johnson, Austin, Minn., 80; 2. Ty Rogers, Yuma, Ariz., 78; 3. Chris Toth, Holtville, Calif., 74; 4. Kevin Johnson, Bakersfield, Calif., 73; 5. Taylor Kuehl, Cave Creek, Ariz., and Miles Morris, Yuma, Ariz., both 72; 7. Christopher Frisbie, Fort Huachuca, Ariz., 64; 8. Jason Pugh, Clovis, Calif., 62; 9. Matt Ruf, Grand Junciton, Colo., and David Kilpela, El Cajon, Calif., both 61.