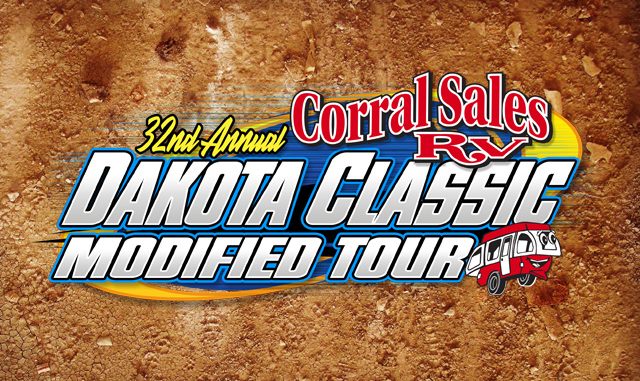 MANDAN, N.D. – The IMCA Dakota Classic Modified Tour has new title sponsorship from long-standing tour supporter Corral Sales of Mandan.
Thirty-two years ago when the tour was in its infancy, Corral Sales and Simes Graphic Designs were the first sponsors of this dream to bring the best to the wilds of North Dakota. Simes is still with the event all these years later and Corral now takes its name.
"Corral Sales is proud to continue its long-standing support of the tour as the event's title sponsor, as it's right in our back yard," said Tim Helbling of Corral Sales. The Mandan-based business has been open since 1968 and specializes in recreational vehicles, parts and service.
"The tour wishes to thank Bob Kupper for his long-time title sponsorship of the series. His leadership and constant support of the event was instrumental to our growth," tour owner and director John Gartner said. "The tour has relied on local and national support and with Corral stepping up to take the lead, the event can extend its long history well into the future."
All Modified features are Fast Shafts All-Star Invitational ballot qualifying events and the tour's popular point fund has been increased from $3,000 to $10,000 this year courtesy of Hoosier Tire and IMCA. Top 10 drivers in both Modified and Stock Car divisions will share in the point fund.
All tracks have agreed to pay every Mod driver a $100 tow fee. More than $20,000 in contingency prizes will be awarded to the top 25 drivers in each division from the nation's top racing manufacturers and retailers.
New this year is a change in the qualifying procedure for the Stock Cars. This division has historically had a draw/re-draw format but this year will join the Modifieds with a passing points format that rewards heat winners with an up-front feature starting position with top passing points drivers lining up right behind. This format has been very popular with the Modifieds so it's an easy decision to do the same with the Stock Cars.
Planning for the tour has been delayed due to the ongoing Covid pandemic that has resulted in a still closed Canadian border that kept Estevan, Sask., off the schedule last year. Estevan is back on the tour for 2021 as the pandemic loosens its grip on the border. A backup plan has been made in which Minot will run a doubleheader in case the border remains closed.
The tour starts in Jamestown on Saturday, July 10. From there it heads north to Minot and the North Dakota State Fairgrounds on Sunday, July 11. On Monday, July 12, Estevan is on the schedule if the border opens up or Minot will take their night if the border remains closed. Williston is next on Tuesday, July 13 and Dickinson will race on Wednesday, July 14. The six consecutive day series will then wrap up in Mandan on Thursday, July 15 for Championship Night.
Iowa's Mike Van Genderen will be the tour flagman again this year and will assist the facilities with track prep on their nights.
Pre-registration will open for both divisions around June 1. Drivers will be allowed to pre-register their number at that time for a $25 fee that will be refunded to any pre-registered driver who races at any tour event.
IMCA points and rules will be used and Executive Director of Competition Dave Brenn will attend all events to keep the playing field level.
XR will televise the entire series using their monthly subscription plan. They will also be funding the Modified last-chance qualifier race in the Mods at all tracks. Gartner will be at the Bristol Nationals event later in March and if drivers or fans have questions they can also contact him at 701 202-6075, or by email at johnygman@bis.midco.net.