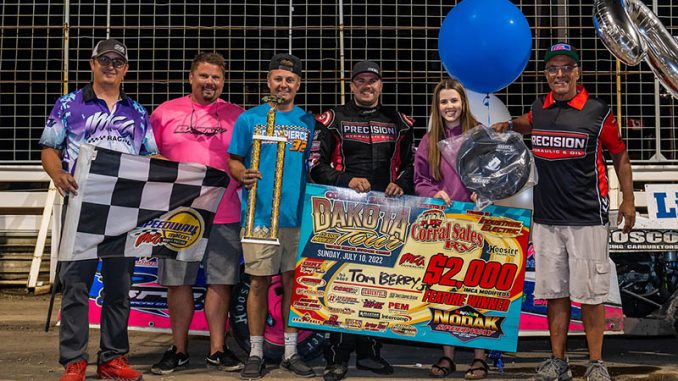 By Becca Pelkey 
MINOT, N.D. (July 10, 2022) – Same story, different track.
Tom Berry Jr. and Randy Klein were Sunday night Corral Sales IMCA Dakota Classic Tour winners at Nodak Speedway, duplicating their checkered flag runs from Saturday's opener at Jamestown.
Berry, the 2019 tour and Minot track champion, collected his second $2,000 Friesen Performance IMCA Modified paycheck in as many nights while Klein scored another $1,000 IMCA Sunoco Stock Car victory in his first Nodak visit.
Fifty-nine Modifieds and 34 Stock Cars saw tour action at The Playground of Power.
"Minot has been good to me in the past," Berry said. "A lot of people can get through (turns) one and two really well. Three and four are real hair pinny. I felt really comfortable there and was able to get grip off four and get super good runs."
Shawn Strand led the Modified field to the green flag and led early before Kollin Hibdon slipped by on lap four, bringing the fifth starting Berry with him.
Berry stayed on Hibdon's rear bumper and waited until they got close to lapped traffic before making a move for the lead on the 11th circuit.
He pulled away from the field as his race car was simply in a class of its own. Hibdon finished second for the second straight night, with Ricky Alvarado, Strand and defending tour champion Tim Ward next across the stripe.
Hard charger Travis Hagen started 20th and ended in sixth.
"It feels really good to be able to win two in a row," said Berry, clearly back on track after a late June wreck. "We rolled out at Jamestown nervous but the car has felt as good as ever the last two nights."
Picking up where he left off in Jamestown, Klein grabbed the lead from pole sitter Dalton Flory in the Stock Car feature and quickly distanced himself from the field.
A series of mid-race cautions slowed the pace but did not slow down Klein, who survived each restart to lead all 25 laps and win back-to-back tour features.
Runner-up was Trent Grager and Tim Pessek took third. Canadian speedster Austin Daae raced from 17th starting to fourth and Travis Ulmer rounded out the top five after starting 22nd.
Round three of the 33rd annual tour is tonight at Williston Basin Speedway and will be broadcast by IMCA.TV.
Feature Results
Modifieds – 1. Tom Berry Jr.; 2. Kollin Hibdon; 3. Ricky Alvarado; 4. Shawn Strand; 5. Tim Ward; 6. Travis Hagen; 7. Jason Wolla; 8. Justin O'Brien; 9. Jeremy Thornton; 10. Drew Christianson; 11. Brady Bjella; 12. Steven Pfeifer; 13. Jake McBirnie; 14. Eddie Belec; 15. Jeff Taylor; 16. Paul Stone; 17. Tanner Black; 18. Chris Tuchscherer; 19. Ed Turnbull; 20. Brandon Clough; 21. Isaac Sondrol; 22. Jeremy Richey; 23. Joey Galloway; 24. Michael Leach; 25. Mike Tomlinson; 26. Kelsie Foley; 27. Justin Medler; 28. Lucas Lamberies.
Stock Cars – 1. Randy Klein; 2. Trent Grager; 3. Tim Pessek; 4. Austin Daae; 5. Travis Ulmer; 6. Matt Speckman; 7. Kevin Roberts; 8. Gabriel Deschamp; 9. Tyler Ashley; 10. Joe Flory; 11. Brendon LaBatte; 12. Daniel Eckblad; 13. Brett Woznicki; 14. Jason Berg; 15. Jake Nelson; 16. Dalton Flory; 17. Mike Hagen; 18. Jace Iverson; 19. Zachary Madrid; 20. Shelby Williams; 21. Angel Munoz; 22. Jeremy Swanson; 23. Dan Mackenthun.