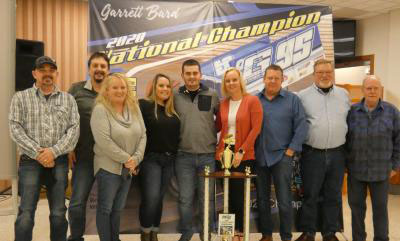 By Frank Buhrman 
MECHANICSBURG, Pa. (Jan. 23) – The Pennsylvania Sprint Series found a way to hold its 2020 awards banquet – just as it had been able to race 28 times last year despite COVID-19 restrictions and concerns – and it honored 2020 champion Garrett Bard and other top finishers from that against-the-odds successful season.
Bard, the Wells Tannery driver, also won the IMCA RaceSaver Sprint Car national championship, the KMJ Performance Pennsylvania State championship and the division title at four tracks the series frequents.
Because the IMCA national banquet was canceled last year, PASS attempted to have IMCA Vice President of Operations Jim Stannard connect via Zoom to congratulate Bard, but technical gremlins interfered.
Also honored in person were the other drivers finishing in the top five in the 2020 PASS standings: Doug Dodson of Middletown (second); Ken Duke Jr. of Selinsgrove (third); Landon Price of Fleetwood (fourth); and John Walp of Wapwallopen (fifth).
Duke was the 2019 PASS champion and also claimed the national IMCA RaceSaver title, the first driver from Pennsylvania to accomplish that feat.
Veteran PASS racer Erin Statler of Carlisle also was on hand to receive her 12th place finish plaque and Dustin Young of Danville received the Rookie-of-the-Year award in person. Drivers Johnny Scarborough of Bomoseen, Vt. (sixth), Domenic Melair of Warrington (seventh and Most Improved Driver) and Devin Adams of Lebanon (13th) also joined the banquet via Zoom.
Also finishing in the top 15 were Larry McVay of Bordentown, N.J. (eighth), Jake Frye of Lewistown (ninth), Derek Hauck of Allenwood (10th), Kassidy Kreitz of Sinking Spring (11th), Nick Sweigart of Myerstown (14th) and Kruz Kepner of Kreamer (15th).
The banquet was held Jan. 23 at the Mechanicsburg Club, which afforded enough space to socially distance tables.
The 2021 PASS season is scheduled to begin Friday, March 26, with a race at Bridgeport (N.J.) Speedway, co-sanctioned with the Mid-Atlantic Sprint Series. Racing moves to Lincoln Speedway the next night. Nearly 50 races fill the 2021 schedule.
PASS was one of the earliest members of the RaceSaver Sprint movement, which seeks to provide Sprint Car rules that make the sport both affordable to participants and exciting to fans. It held its first season of racing in 1999. More than 100 RaceSaver teams took part in at least one PASS race last year.
The latest news, plus more information about PASS's schedule, drivers, and history, can be found at www.pasprintseries.com or the Pennsylvania Sprint Series Facebook page.