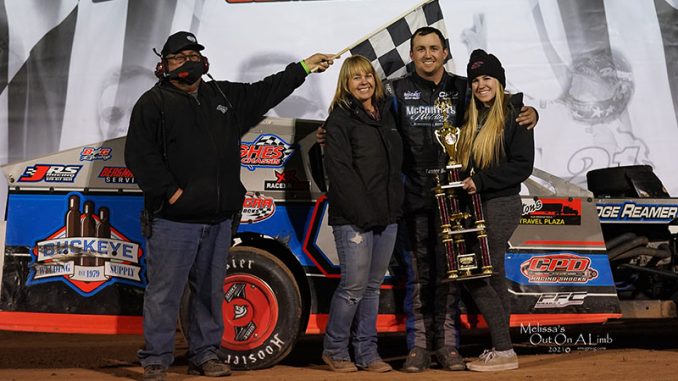 SOMERTON, Ariz. (Jan. 6) – Patience put $1,000 in Tanner Black's pocket.
With a record 161 entries in the pits for opening night of the IMCA.TV Winter Nationals, Black returned to his home state to win Wednesday's feature for IMCA Modifieds at Cocopah Speedway. He reeled in Russell Allen on the 16th circuit in a fast-paced main event that ran 25 caution-free laps.
"I decided I needed to roll around the bottom and be patient," said Black, who'd run second the first 15 times around the track. "Maybe he'd make a mistake and I could get around him."
Allen ended in second while defending track and Shaw Race Cars Western Region champion Chaz Baca was third.
Zane DeVilbiss and Ethan Dotson completed the top five. Sixty-two Modifieds saw action at Cocopah.
Black, now from Kansas, had put his name on the Fast Shafts All-Star Invitational ballot by winning night two of the Turkey Classic at Cocopah last November.
Other Wednesday night winners were Andrew Altenburg in the IMCA Sunoco Stock Cars, Chris Toth in the Karl Kustoms Northern SportMods and Eric Knutson in the IMCA Sunoco Hobby Stocks.
Altenburg caught Blake Adams with two laps to go in the Stock Car headliner. He'd started second and swapped the runner-up position with Michael Sheen before those late heroics.
Sheen chased Altenburg across the stripe after passing Adams on the final circuit. Aaron Spangler started 13th and finished fourth.
Toth and Fred Ryland ran 1-2 all 20 laps of the Northern SportMod feature. The front pair were catching the back of the field before back-to-back yellows at midway. Brian Osantowski worked his way from 13th starting to third with six to go. Forty-eight Northern SportMods vied Wednesday night.
And Knutson led all but the first three laps in topping the Hobby Stock feature. Brandon Bombardo made a late charge to second and Steve Bitting Jr. was third.
IMCA.TV broadcasts each installment of Winter Nationals, with upcoming dates Jan. 7-9 and Jan. 14-16. Mach-1 Sport Compacts and the Gene Freeman pit crew challenge are on the Jan. 13 program.
Feature Results
Modifieds – 1. Tanner Black; 2. Russell Allen; 3. Chaz Baca; 4. Zane DeVilbiss; 5. Ethan Dotson; 6. Jake Pike; 7. Casey Arneson; 8. Shawn Natenstedt; 9. Jeff Larson; 10. Tim Ward; 11. Ricky Alvarado; 12. Spen­cer Wilson; 13. Jason Wolla; 14. Kyle Heckman; 15. Alex Stanford; 16. Kenny Wallace; 17. Brandon Beck­endorf; 18. Austin Kuehl; 19. Bricen James; 20. Grey Ferrando; 21. Joey Price; 22. Bob Moore; 23. Jesse Rogotzke; 24. Ryan McDaniel.
Stock Cars – 1. Andrew Altenburg; 2. Michael Sheen; 3. Blake Adams; 4. Aaron Spangler; 5. Tony Hill; 6. Bo Partain; 7. Scott Sluka; 8. Rob Stenvold; 9. Kyle Heckman; 10. Nicholas Johnson; 11. D.J. Werkmeister; 12. Nugget Shupe; 13. Joe Gallaher; 14. Brock Badger; 15. Nick Langer; 16. Race Fisher; 17. Donald Schott; 18. Dale Jay Kibel; 19. Hunter Cavanagh; 20. Steve Livingston; 21. Patrick Humphrey; 22. A.J. Dancer; 23. Andrew Burg.
Northern SportMods – 1. Chris Toth; 2. Fred Ryland; 3. Brian Osantowski; 4. Brady Bjella; 5. Austen Becerra; 6. Tate Johnson; 7. Chase Alves; 8. Jake Nelson; 9. Erik Laudenschlager; 10. Darren Medler; 11. Kelly Henderson; 12. Camron Spangler; 13. Jason Pugh; 14. Taylor Kuehl; 15. Brian Brown; 16. Mike Wells; 17. Josh Most; 18. Shane Paris; 19. Miles Morris; 20. Phillip Shelby; 21. Matt Mayo; 22. Bo Partain; 23. Cam Reimers; 24. David Pitt.
Hobby Stocks – 1. Eric Knutson; 2. Brandon Bombardo; 3. Steve Bitting Jr.; 4. Joe Peterson; 5. Matt Olson; 6. David Crimmins; 7. Brett Vanous; 8. Brock Beeter; 9. Brian Johnson; 10. Jason Duggins; 11. Tim Gonska; 12. Joshua Cordova; 13. Scott Tenney; 14. Andy Pearce; 15. Jim Robinson; 16. Rick Hibbard; 17. Larry Rust; 18. Yancy Shupe; 19. Jacob Cordova; 20. Pete Terwilleger; 21. Matt Schlamann; 22. Mark Merlen; 23. Frank Cordova; 24. Chandler Dodge.