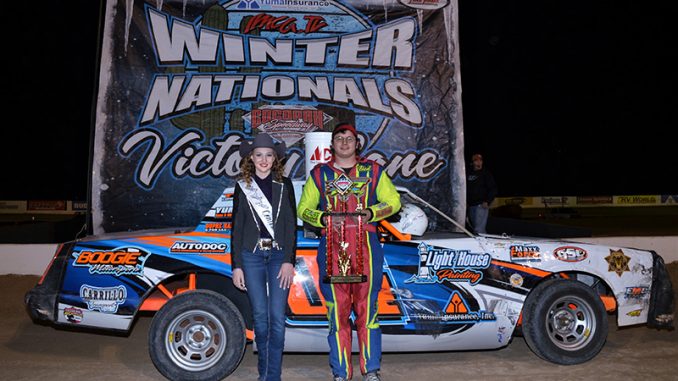 By Ben Deatherage  
SOMERTON, Ariz. (Jan. 14) – While Friday night saw familiar faces in victory lane, Dillon Richards drove a long ways for his career first IMCA Sunoco Hobby Stock victory at Cocopah Speedway's IMCA.TV presented by Yuma Insurance Winter Nationals.
After chasing Brandon Bombardo and then Bobby Horton early in the 20-lapper, the Beatrice, Neb., driver completed his charge from 10th starting to the lead at midway, then stayed in front to the $500 checkers.
Thomas Daffern hauled the mail from 22nd starting to second while Horton ended third.
Ethan Dotson drove to a fifth consecutive $1,000 IMCA Modified feature win while Chanse Hollatz topped the IMCA Sunoco Stock Cars and Chase Alves paced the IMCA Northern SportMods, both in $750 to win contests.
Dotson challenged Mike McKinney for the lead, putting a slider on for first place on lap 10. Dotson pulled away from the rest of the pack to win his fifth main event of the season, breaking the IMCA.TV Winter Nationals record of four set by Dylan Smith in 2014.
McKinney was runner-up while opening night winner Kollin Hibdon was third. Jeremy Mills and Tripp Gaylord completed the top five.
Alves became the first driver to repeat in Northern SportMod action after Ryan Peery and Miles Morris took turns at the point.
Morris came up just 0.053 seconds short at the stripe. Andrew Peckham got third.
Hollatz took charge from the start of the 20-lap Stock Car feature, building up a big lead before cautions slowed the second half of the contest.
The two final restarts ultimately proved to be no issue whatsoever for Hollatz, the winner in front of Scott Sluka and Jim Horejsi, another two-time winner.
And the IMCA STARS Mod Lites had quite the 20-lap main event as Thursday winner Riley Clem showed the way from the get-go. J.D. Brown then took over before Zac Forster bounced back from an early spin for the lead and eventual $350 victory.
J.D. Brown was second, followed by Clem in third.
Feature Results
Modifieds – 1. Ethan Dotson; 2. Mike McKinney; 3. Kollin Hibdon; 4. Jeremy Mills; 5. Tripp Gaylord; 6. Bobby Hogge IV; 7. Kyle Heckman; 8. Tanner Black; 9. Matt Bonine; 10. Tim Ward; 11. Zachary Madrid; 12. Grey Ferrando; 13. Dan Menk; 14. Austin Kuehl; 15. Russell Allen; 16. Ryan Roath; 17. Cameron Starry; 18. Bricen James; 19. Jerry Flippo; 20. Justen Yeager; 21. Braxton Yeager; 22. Paul Stone; 23. Austen Becerra; 24. Brady Bjella; 25. Chaz Baca; 26. Matt Aukland; 27. Cody Thompson.
Stock Cars – 1. Chanse Hollatz; 2. Scott Sluka; 3. Jim Horejsi; 4. Shelby Williams; 5. Dallon Murty; 6. Jake Nelson; 7. Rob Gallaher; 8. Paul Stone; 9. Jason Doyle; 10. Fred Ryland; 11. Rick Diaz; 12. Dan Menk; 13. Tim Gonska; 14. Miciah Hidlebaugh; 15. Joe Schmit; 16. Leslie Gill; 17. Josh Most; 18. Dave Hill; 19. Kevin Roberts; 20. Cody Johnson; 21. Jeff Olschowka; 22. Andrew Burg; 23. Nicholas Johnson; 24. Chris McCurdy Jr.; 25. Zachary Madrid.
Northern SportMods – 1. Chase Alves; 2. Miles Morris; 3. Andrew Peckham; 4. Chris Toth; 5. Shane Paris; 6. Andrew Pearce; 7. Matthew Mayo; 8. Fred Ryland; 9. Izac Mallicoat; 10. Michael Johnson; 11. Ty Rogers; 12. Jesse Johnson; 13. Danny Concelman; 14. David Siercks; 15. Jacob Mallet Jr.; 16. Ryan Peery; 17. Kyler Girard; 18. Jon McKinley; 19. Dakota Girard; 20. Jayson Aldridge; 21. Joe Baker; 22. Matt Ruf; 23. Scott Francoeur; 24. David Pitt; 25. Brian Carey; 26. Shelby Alves.
Hobby Stocks – 1. Dillon Richards; 2. Thomas Daffern; 3. Bobby Horton; 4. Brycen Daffern; 5. Zack Tate; 6. Brian Johnson; 7. Matt Olson; 8. Brian Brown; 9.Chandler Dodge; 10. Nick Posey; 11. Nathan Deragon; 12. Jason Duggins; 13. Tory Harazin; 14. Andy Pearce; 15. Yancy Shupe; 16. Scott Herron; 17. Mark Merlen; 18. Joe Peterson; 19. Jim Robinson; 20. Bobby Gallaher; 21. Darren Sage; 22. Tanner Weins; 23. Joshua Cordova; 24. Brandon Bombardo.
Mod Lites – 1. Zac Forster; 2. J.D. Brown; 3. Riley Clem; 4. Sean Conyers; 5. Corey Lowe; 6. Collin Bender; 7. Gary DeWitt; 8. Darrick Knutsen; 9. Tyler Wilson; 10. Tim Varney; 11. Parker Cherry; 12. Kathy Fitz; 13. Steve Bender; 14. Richard Kemp; 15. Brayden Keil; 16. Hayden Bender; 17. Brandi Myers; 18. Jon Stringfellow; 19. Derrick Pyeatt; 20. Zander Keeland; 21. Shane Balser.