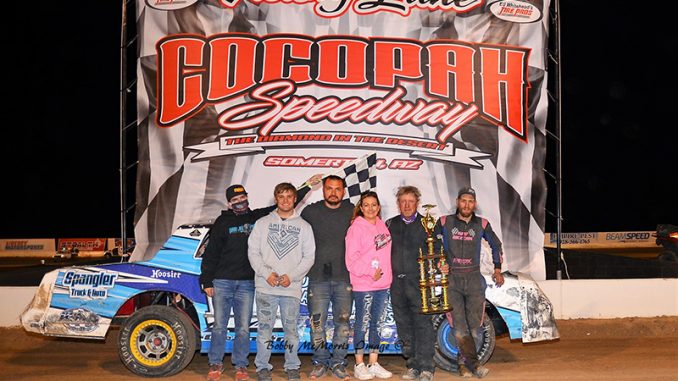 SOMERTON, Ariz. (Jan. 14) – Brandon Bombardo, Bo Partain, Ethan Dotson and Aaron Spangler all took their turns in victory lane during the course of 85 consecutive caution-free laps on night five of the IMCA.TV Winter Nationals at Cocopah Speedway. 
Bombardo led start to finish in an IMCA Sunoco Hobby Stock feature last interrupted by a caution with 10 laps to go. Partain and Dotson duplicated that flag-to-flag feat in 25-lap Karl Kustoms Northern SportMod and IMCA Modified main events, respectively.
Spangler then inherited the front spot 11 laps into the IMCA Sunoco Stock Car feature after leader Kyle Heckman drove off with a flat tire. He held off Andy Altenburg to the end of a third consecutive green to checkered 25-lapper.
Joshua Cordova and then Matt Olson headed the pursuit of Bombardo before 10th starting Mitchell Mohler Sr. charged into second with seven laps left. Olson ended in third.
Partain had his hands full with Josh Most before his challenger slowed and exited for the infield in the late going. Shane Paris and Fred Ryland completed the top three.
A Fast Shafts All-Star Invitational ballot qualifier with his Jan. 7 Winter Nationals victory, Dotson led Joey Price every time around the oval in the $1,000 to win Modified headliner. Jerry Flippo took over third in the late going, with D.J. Shannon and Jeff Larson next across the stripe.
Looking for his third Winter Nationals win, Heckman was forced pitside with a flat and Spangler made the most of the opportunity. Altenburg was second, Scott Sluka third.
The sixth and seventh installments of the IMCA.TV Winter Nationals are Friday and Saturday, Jan. 15-16
Feature Results
Modifieds – 1. Ethan Dotson; 2. Joey Price; 3. Jerry Flippo; 4. D.J. Shannon; 5. Jeff Larson; 6. Casey Arneson; 7. Tim Ward; 8. Brandon Beckendorf; 9. Chaz Baca; 10. Ken Schrader; 11. Casey Skyberg; 12. Russell Allen; 13. Tanner Black; 14. Dylan Thornton; 15. Michael Thing; 16. Grey Ferrando; 17. Bricen James; 18. Beau Speicher; 19. Matt Aukland; 20. Kollin Hibdon; 21. Brody Spangler; 22. Bubba Stafford Jr.; 23. Kelsie Foley; 24. Derick Young; 25. Kyle Heckman.
Stock Cars – 1. Aaron Spangler; 2. Andy Altenburg; 3. Scott Sluka; 4. Nicholas Johnson; 5. Rob Stenvold; 6. Blake Adams; 7. Race Fisher; 8. D.J. Werkmeister; 9. Tony Hill; 10. Donald Schott; 11. Andrew Burg; 12. Miciah Hidlebaugh; 13. Joe Gallaher; 14. Patrick Humphrey; 15. Cody Johnson; 16. Jason Kniffen; 17. Larry Brigner; 18. A.J. Dancer; 19. Kyle Heckman; 20. Bo Partain; 21. Steve Livingston; 22. Hunter Cavanagh; 23. Seth Dixon.
Northern SportMods – 1. Bo Partain; 2. Shane Paris; 3. Fred Ryland; 4. Ty Rogers; 5. Nathan Rolfe; 6. Austen Becerra; 7. Jason Pugh; 8. Erik Laudenschlager; 9. Ryan Amidon; 10. Brian Osantowski; 11. Chase Alves; 12. Tyler Bannister; 13. Cam Reimers; 14. Andrew Peckham; 15. Chase Hansen; 16. Tate Johnson; 17. Jason Bannister; 18. Camron Spangler; 19. Miles Morris; 20. Brian Carey; 21. Josh Most; 22. Ron Schreiner; 23. Kevin Johnson; 24. Garrett Jernagan.
Hobby Stocks – 1. Brandon Bombardo; 2. Mitchell Mohler Sr.; 3. Matt Olson; 4. Joshua Cordova; 5. Joe Peterson; 6. Jason Duggins; 7. Brycen Daffern; 8. Steve Bitting Jr.; 9. Brian Johnson; 10. Pete Terwilleger; 11. Scott Tenney; 12. Mark Merlen; 13. Larry Rust; 14. Jacob Rowley; 15. Charles McDaniel; 16. Chandler Dodge; 17. Zack Tate; 18. Tim Gonska; 19. Andy Pearce; 20. Austin Kayton.