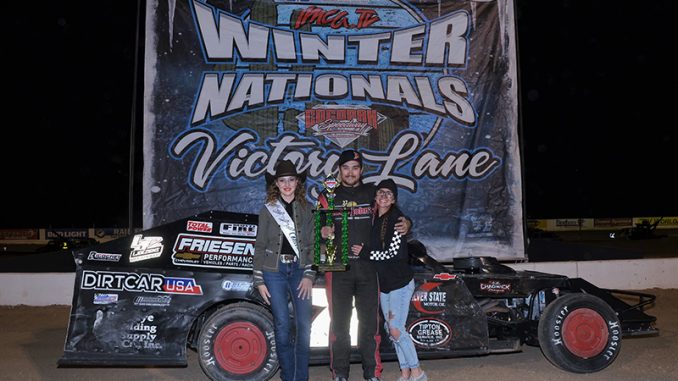 By Ben Deatherage 
SOMERTON, Ariz. (Jan. 15) ­ ­– Five drivers were feature winners and four more became champions on the final night of the IMCA.TV Winter Nationals presented by Yuma Insurance at Cocopah Speedway.
Ethan Dotson, Chanse Hollatz, Shane Paris and Bobby Horton topped point standings in their respective divisions while Tripp Gaylord, Shelby Williams, Ryan Peery, Thomas Daffern and Riley Clem took the checkers Saturday evening at Somerton.
Gaylord cleared Grey Ferrando for the early lead in the IMCA Modified 25-lapper, then set a wicked pace and caught up with the back of the field. The lone caution took place on lap 13 and Kollin Hibdon got close following the restart but couldn't quite catch the leader.
Gaylord's $1,000 win made him Fast Shafts All-Star Invitational qualifying eligible. Hibdon was second and Tim Ward third. Dotson, a five-time Winter Nationals winner, paced points ahead of Ward and Tanner Black.
The 20-lap IMCA Sunoco Stock Car main saw Zach Madrid and Dallon Murty battle at the front, swapping the lead before Williams got the lead with five to go, then hold off Murty for the $750 checkers along with B & B Racing Chassis All-Star qualifying eligibility. Madrid claimed third.
Hollatz earned the Winter Nationals crown, with Jim Horejsi second via the tie breaker and Josh Most third.
Peery took care of business in the 25-lap, $750 to win feature for IMCA Northern SportMods despite four restarts. Peery hit his marks each time the green waved again and pulled away from the rest of the pack. Andrew Pearce finished second, Chase Alves third.
Paris, Peery and Andrew Pearce went 1-2-3 in points.
The battle for the lead lasted all 20 laps in the IMCA Sunoco Hobby Stock feature as Dillon Richards and Thomas Daffern were neck and neck at the wire multiple times.
Daffern beat out Richards in traffic on lap 12, and ultimately withstood a last-corner advance for his first win of the season, good for $500. Richards and Brian Brown completed the top three.
Bobby Horton led the Hobby Stock standings with Brycen Daffern and Brown next in points.
Zac Forster roared to the front in the first stanza in the 20-lap IMCA STARS Mod Lite feature then was overtaken in lapped traffic on the sixth circuit by Riley Clem.
Clem pulled away and scored his second win in three Winter Nationals starts. Forster hit the finish line second over Corey Lowe.
Kaytee DeVries had the top point total over the course of Mach-1 Sport Compact events Jan. 5-8. D.J. Werkmeister was second and third was Kevin Reuter.
Feature Results
Modifieds – 1. Tripp Gaylord; 2. Kollin Hibdon; 3. Tim Ward; 4. Jerry Flippo; 5. Tanner Black; 6. Grey Ferrando; 7. Austin Kuehl; 8. Jeremy Mills; 9. Bobby Hogge IV; 10. Austen Becerra; 11. Bricen James; 12. Ken Schrader; 13. Mike McKinney; 14. Braxton Yeager; 15. Chaz Baca; 16. Zach Madrid; 17. Trevor Fitz; 18. Marvin Mueller; 19. Ryan Roath; 20. Matt Bonine; 21. Buddy Kniss; 22. Devin Fouquette; 23. Taylor Johnson; 24. Matt Aukland; 25. Ethan Dotson; 26. Dan Menk; 27. Kyle Heckman.
Stock Cars – 1. Shelby Williams; 2. Dallon Murty; 3. Zach Madrid; 4. Josh Most; 5. Joe Schmit; 6. Jason Doyle; 7. Brock Badger; 8. Paul Stone; 9. Larry Brigner; 10. Chanse Hollatz; 11. Tim Gonska; 12. Nate Warren; 13. Scott Sluka; 14. Chris McCurdy Jr.; 15. Miciah Hidlebaugh; 16. Cody Johnson; 17. Jim Horejsi; 18. Rob Gallaher; 19. Tony Hill; 20. Shawn Parish; 21. Matt Mayo; 22. D.J. Keldsen; 23. Dan Menk; 24. Nicholas Johnson; 25. Bo Partain; 26. Rick Diaz.
Northern SportMods – 1. Ryan Peery; 2. Andrew Pearce; 3. Chase Alves; 4. Shane Paris; 5. Matthew Mayo; 6. Miles Morris; 7. Izac Mallicoat; 8. Jacob Mallet Jr.; 9. Josh Most; 10. Chris Toth; 11. Andrew Peckham; 12. Jesse Johnson; 13. Dakota Girard; 14. Ty Rogers; 15. Shelby Alves; 16. Speedy Madrid; 17. Jayson Aldridge; 18. Jake Triska; 19. Joel Dean; 20. David Siercks; 21. Slade Pitt; 22. Scott Francoeur; 23. David Pitt; 24. Kyler Girard; 25. Michael Johnson; 26. Danny Concelman.
Hobby Stocks – 1. Thomas Daffern; 2. Dillon Richards; 3. Brian Brown; 4. Bobby Horton; 5. Joshua Cordova; 6. Chandler Dodge; 7. Jason Duggins; 8. Shawn Rico; 9. Joe Peterson; 10. Nathan Deragon; 11. Brycen Daffern; 12. Brian Johnson; 13. Jim Robinson; 14. Matt Olson; 15. Zack Tate; 16. Tory Harazin; 17. Andy Pearce; 18. Scott Herron; 19. Mark Merlen.
Mod Lites – 1. Riley Clem; 2. Zac Forster; 3. Corey Lowe; 4. Gary DeWitt; 5. Hayden Bender; 6. J.D. Brown; 7. Steve Bender; 8. Sean Conyers; 9. Brayden Keil; 10. Tim Varney; 11. Darrick Knutsen; 12. Richard Kemp; 13. Kathy Fitz; 14. Tyler Wilson; 15. Jon Stringfellow; 16. Derrick Pyeatt; 17. Zander Keeland; 18. Parker Cherry; 19. Collin Bender.