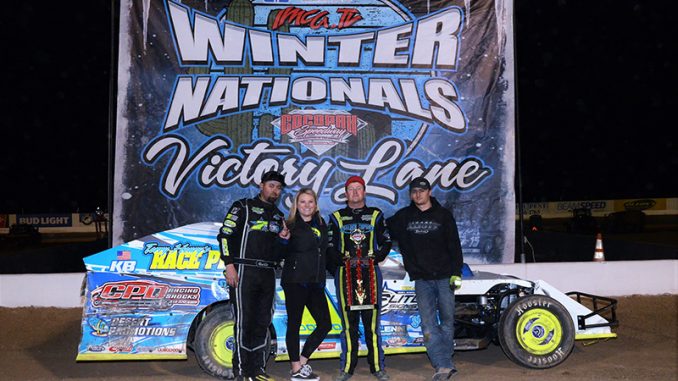 By Ben Deatherage 
SOMERTON, Ariz. (Jan. 6) – Ethan Dotson was the cream of the crop again Thursday night at Cocopah Speedway.
A three-time winner and champion of the 2021 version of the IMCA.TV Winter Nationals presented by Yuma Insurance, Dotson won the Thursday night IMCA Modified feature at the Diamond In The Desert, earning $1,000 and Fast Shafts All-Star Invitational qualifying eligibility.
Dotson beat fellow Bakersfield, Calif. driver Jerry Flippo and Austin Kuehl for the lead on lap one. Just two stoppages occurred in the 25-lap main event, with Dotson getting a slight challenge after the restart of the first caution.
The field went 20 quick laps without incident, allowing Dotson to cruise right along, open up a significant lead and hit the tail end of the pack. He negotiated traffic on the way to registering his first feature win of the 2022 IMCA Speedway Motors Weekly Racing season.
Flippo was second with third credited to Austen Becerra. Cody Thompson and Don Shaw completed the top five.
Entry numbers for night two at Cocopah grew to 218. Jim Horejsi and Bobby Horton repeated as IMCA Sunoco Stock Car and IMCA Sunoco Hobby Stock winners, respectively. Chase Alves topped the IMCA Northern SportMod main and Kevin Reuter took the Mach-1 Sport Compact checkers.
The 25-lap Stock Car feature was an electrifying. The race came down to the final corner as Horejsi pulled off a Hail Mary pass via the inside to beat out Most by 0.149 of a second.
There were only two cautions during the race, both within the first six laps. Josh Most was passed on the second restart but didn't go away quietly and reclaimed the top spot on lap 20 but wasn't able to deny the late-race heroics of Horejsi, who banked another $750 for the victory.
Zach Madrid was third.
Utter dominance was witnessed in the Northern SportMod main event, which began with Wednesday winner Most blazing the trail early.
Chase Alves took the lead on lap six and began checking out before three stoppages kept things bunched up. With four laps to go, Alves fended off a charging Most following the final restart.
Alves went on for the $750 win to grab his first main event victory in 2022 while Fred Ryland beat Josh Most for second.
Domination would be seen in the last 10 of 25 Hobby Stock main event laps as Horton navigated his way to P1 after starting 10th and scored a convincing second $500 win in as many nights.
Thomas Daffern was runner-up with Zach Tate ending his night in third.
Reuter put a ton of pressure on Wednesday winner Kaytee DeVries and made the pass for the lead on the 15th circuit of the Sport Compact feature. One additional caution came out, which allowed DeVries to challenge on the restart.
However, Reuter kept her at bay to for his first victory, good for $300, of the 2022 season. Third was D.J. Werkmeister.
The 2022 IMCA.TV Winter Nationals continue Friday, Jan. 7 with the same five divisions on the card. All Winter Nationals programs are broadcast by IMCA.TV, "Where America Comes To Watch Racing!"
Feature Results
Modifieds – 1. Ethan Dotson; 2. Jerry Flippo; 3. Austen Becerra; 4. Cody Thompson; 5. Don Shaw; 6. Mike McKinney; 7. Kyle Heckman; 8. Travis Denning; 9. Grey Ferrando; 10. Tanner Black; 11. Jeremy Mills; 12. Josh Cain; 13. Tim Ward; 14. Austin Kuehl; 15. Zach Madrid; 16. Trevor Fitz; 17. Paul Stone; 18. Bricen James; 19. Chad Groves; 20. Jesse Bailey; 21. Paul Culp; 22. Ryan Roath; 23. Tripp Gaylord; 24. Lawrence O'Connor; 25. Kollin Hibdon; 26. Kenny Schrader.
Stock Cars – 1. Jim Horejsi; 2. Josh Most; 3. Zachary Madrid; 4. Nicholas Johnson; 5. Paul Stone; 6. Chanse Hollatz; 7. Jason Doyle; 8. Brock Badger; 9. Damon Richards; 10. Jake Nelson; 11. Taylor Kuehl; 12. Rick Diaz; 13. Scott Sluka; 14. Bo Partain; 15. Chase Berkeley; 16. Austin Kaplan; 17. Zane DeVilbiss; 18. Rob Gallaher; 19. Dan Menk; 20. Race Fisher; 21. Andrew Altenburg; 22. Kersey Ferrando; 23. Jerry Schram; 24. Leslie Gill.
Northern SportMods – 1. Chase Alves; 2. Fred Ryland; 3. Josh Most; 4. Ryan Peery; 5. Phillip Shelby; 6. Ty Rogers; 7. Shane Paris; 8. Tim Bergerson; 9. Tony Acierno; 10. Joe Feyen; 11. Matt Ruf; 12. Matthew Mayo; 13. David Pitt; 14. Andrew Pearce; 15. Joe Wabsis; 16. Bill Lundock; 17. Chris Toth; 18. Jacob Mallet Jr; 19. Brian Carey; 20. 7Jesse Johnson; 21. Dakota Girard; 22. Brandyn Johnson; 23. Izac Mallicoat; 24. David Siercks.
Hobby Stocks – 1. Bobby Horton; 2. Thomas Daffern; 3. Zack Tate; 4. Nick Posey; 5. Brycen Daffern; 6. Matt Olson; 7. Eric Knutson; 8. Joshua Cordova; 9. Brian Brown; 10. Jason Duggins; 11. Jim Robinson; 12. Ben Reierson; 13. Scott Tenney; 14. William Herron; 15. Brett Vanous; 16. Bobby Gallaher; 17. Brandon Bombardo; 18. Tory Harazin; 19. Andy Pearce; 20. Mark Merlen; 21. Chandler Dodge.
Sport Compacts – 1. Kevin Reuter; 2. Kaytee DeVries; 3. D.J. Werkmeister; 4. Waylon Hale; 5. Billy Foultz; 6. Camron Spruell; 7. Enzo Deckers; 8. Jenna Wilson; 9. Ryan Brooks; 10. Benjamin Pendleton; 11. Maci Constance; 12. Katie Barthel; 13. Wynona Ragland; 14. Mylee Joann.