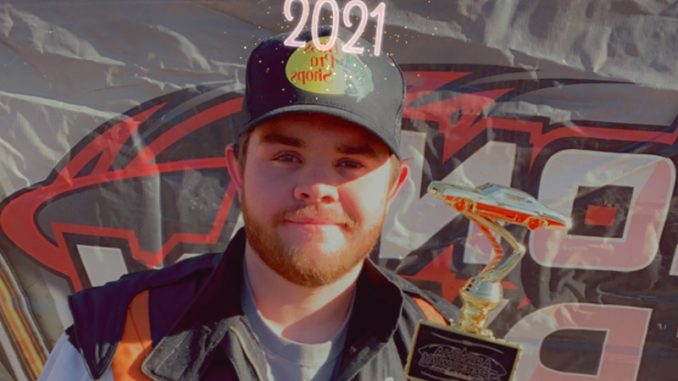 SAN TAN VALLEY, Ariz. (Jan. 1) – The 10th annual New Year's Day special at Arizona Speedway ranked a solid 10 with Zachary Madrid.
Madrid earned $1,000 for his career-first IMCA Sunoco Stock Car victory in the 2021 opener. The Friday win was also his 40-lap first in any division.
"The car is wicked fast and I couldn't have asked for a better setup," said Madrid, who had debuted the Mike Shea-owned 2020 IROC ride last November at the Duel In The Desert. "We'll take a $1,000 win any time we can get it."
The 2019 IMCA Modified track champion at San Tan Valley, Madrid on the front row and inside father Anthony. He stayed close to the front, taking the lead for good after mechanical issues sidelined the senior Madrid, Chanse Hollatz and then George Fronsman.
Dallon Murty motored from 12th starting to finish second while 13th starting Ray Doyle was third.
Madrid will chase Stock Car career win number two at Cocopah Speedway's IMCA.TV Winter Nationals.
Feature results – 1. Zachary Madrid; 2. Dallon Murty; 3. Ray Doyle; 4. Cory Parent; 5. Gary Wray; 6. George Fronsman; 7. Hunter Cavanagh; 8. Trevor Hidalgo; 9. J.C. Parmeley; 10. Chanse Hollatz; 11. Chaz Baca; 12. Aaron Spangler; 13. Darryn Werkmeister; 14. Steve Soboski; 15. Anthony Madrid; 16. Joey McCullough; 17. Dennis Losing; 18. Lonnie Foss; 19. Tyler Vache; 20. Larry Brigner; 21. Andrew Burg.