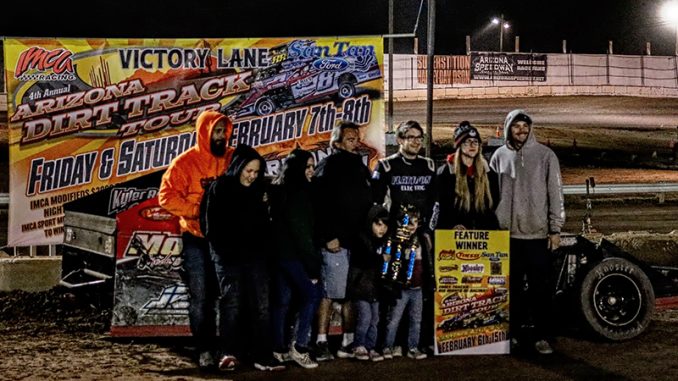 SAN TAN VALLEY, Ariz. (Feb. 7) – A driver who's already been busy racking up feature wins this season had a career highlight victory to talk about following the IMCA Modified feature on opening night of the IMCA Arizona Dirt Track Tour. 
Chaz Baca got the best of Ricky Thornton Jr. in the $2,000 to win main event Friday at Arizona Speedway. The quick-paced 25-lapper at San Tan Valley ran caution-free and saw the front pair work through heavy traffic before Baca edged ahead and beat Thornton to the stripe by half a second.
"That was the most exciting race I think I've ever run. It's a big deal to run with Ricky Thornton like that," said Baca, already on the Fast Shafts All-Star Invitational ballot. "It was definitely the best win I've ever had … Holy cow, that was exciting."
Baca and Thornton, both two-time track champions at Arizona Speedway, started on the front row, with Baca just ahead when the first lap was scored.
Defending tour champion Thornton was the leader on lap two and was joined by Baca in pulling away from the rest of the field by lap seven.
Baca used the higher line to take the lead on lap 11. Thornton made a couple bids to regain the lead in traffic but couldn't make either pass stick to deny Baca his third win of the season.
Rounding out the top five were Collen Winebarger, Ethan Dotson and Tim Ward.
Thornton started fourth and led every lap in winning the IMCA Sunoco Stock Car feature by three-plus seconds over sixth starting Chanse Hollatz and eighth starting George Fronsman. Brendon LaBatte and Andrew Burg were next to the checkers.
Nebraska speedster Brian Osantowski led the last half of the Karl Kustoms Northern SportMod main event, getting that win ahead of teammate and 10th starting Cody Thompson. Two-time and defending national champion Tyler Soppe was third.
Austen Becerra led early and ended in fourth; Kelly Henderson started way back in 20th and finished fifth.
Both the Stock and SportMod features paid $750 to win.
Fifty-five Modifieds, 19 Stock Cars and 37 SportMods from 15 states and Canada saw opening night action at San Tan Valley.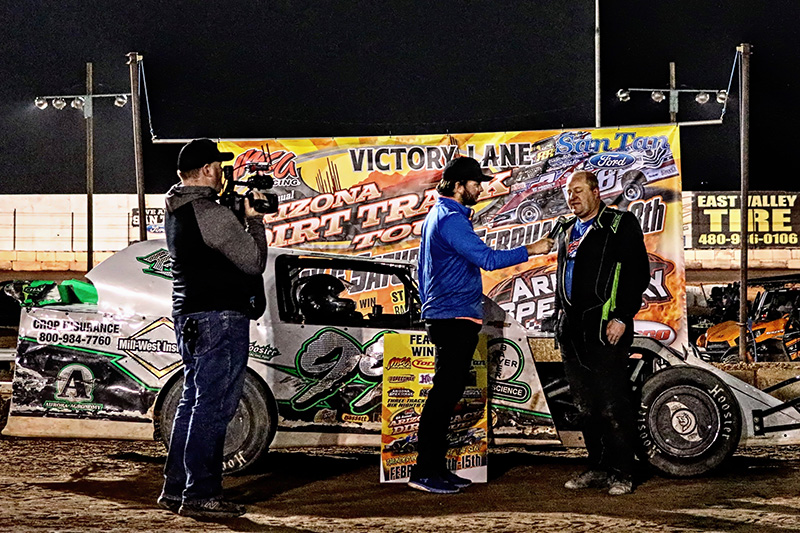 Feature Results
Modifieds – 1. Chaz Baca; 2. Ricky Thornton Jr.; 3. Collen Winebarger; 4. Ethan Dotson; 5. Tim Ward; 6. D.J. Shannon; 7. Alex Stanford; 8. Kollin Hibdon; 9. Jeff Taylor; 10. Kelsie Foley; 11. Zachary Madrid; 12. Bricen James; 13. Lance Mari; 14. John Hansen; 15. Casey Skyberg; 16. Drew Armstrong; 17. Grey Ferrando; 18. Ryan Roath; 19. Christy Barnett; 20. Bryson Curry; 21. Don Earven; 22. Marlyn Seidler; 23. Mark Carrell.
Stock Cars – 1. Ricky Thornton Jr.; 2. Chanse Hollatz; 3. George Fronsman; 4. Brendon LaBatte; 5. Andrew Burg; 6. Kevin Roberts; 7. Zachary Madrid; 8. Cody Center; 9. Sean Gentry; 10. George Fronsman Jr.; 11. Eric Lloyd; 12. Andrew Mathers; 13. Steve Soboski; 14. Darryn Werkmeister; 15. Craig Miller; 16. Wayne Clink; 17. Josh Werkmeister; 18. Arron Hetrick; 19. Raymond Doyle.
Northern SportMods – 1. Brian Osantowski; 2. Cody Thompson; 3. Tyler Soppe; 4. Austen Becerra; 5. Kelly Henderson; 6. Clay Erickson; 7. Speedy Madrid; 8. Taylor Kuehl; 9. Chris Theodore; 10. Darin Center; 11. Kyle Salo; 12. Eric Folstad; 13. David Pitt; 14. Justin Erickson; 15. Michael Egurola; 16. Andy Clower; 17. Fred Ryland; 18. Brady Bjella; 19. Ty Weidner; 20. Michael Soboski; 21. Bo Partain; 22. Slade Pitt; 23. Terry Bahr; 24. Ben Stockton.