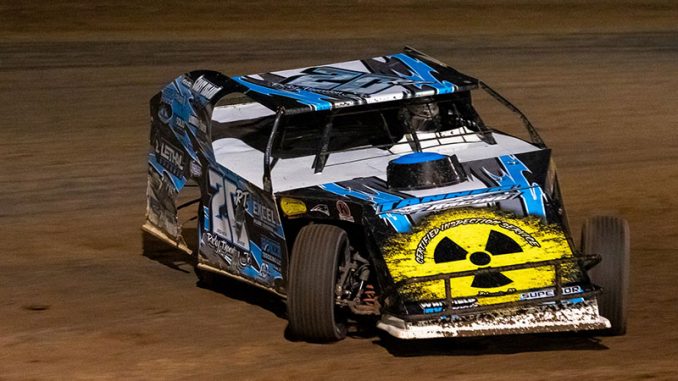 By Jackson Braun
QUEEN CREEK, Ariz. (Feb. 9) – Round 2 of the 2019 edition of the Arizona Modified Tour brought even more great racing to the table as the competitors battled it out to try and come out on top Saturday at Arizona Speedway.
Ricky Thornton Jr. was the night's biggest titan of the 25 IMCA Modified starters in the feature action, as he drove through lapped traffic the most efficiently in the wire-to-wire contest and came away with his third career Arizona Modified Tour victory.
Fargo, N.D., was represented well as hometown drivers Casey Arneson and Dylan Goplen led the field to the green flag in the Modified feature. Arneson got the jump but after one lap Thornton was already next to him and contending for that top spot.
Roaring around the high side of the speedway, Thornton officially took the race lead on lap six. He then cleared Arneson and started to run away from the field.
Arneson was then pressure by Jake O'Neil, who was able to take his momentum from the high side to get around Arneson's and then set his sights on Thornton.
O'Neil caught up to Thornton just about the time lapped traffic started to become an issue. Thornton split the first two lapped cars and that may have been the dagger, as O'Neil struggled to maneuver around those lapped cars. Once Thornton got a few cars between himself and O'Neil, it was smooth sailing the rest of the way as he went on to grab the checkers with zero caution flags in the whole 25-lap race.
O'Neil held on to finish second ahead of Alex Stanford, Arneson, and Jeff Larson.
The Karl Chevrolet Northern SportMods provided awesome racing as well, as a surging racer flew around the high line of the Arizona Speedway and grabbed a photo-finish victory. That racer was Boone, Iowa's Jake McBirnie.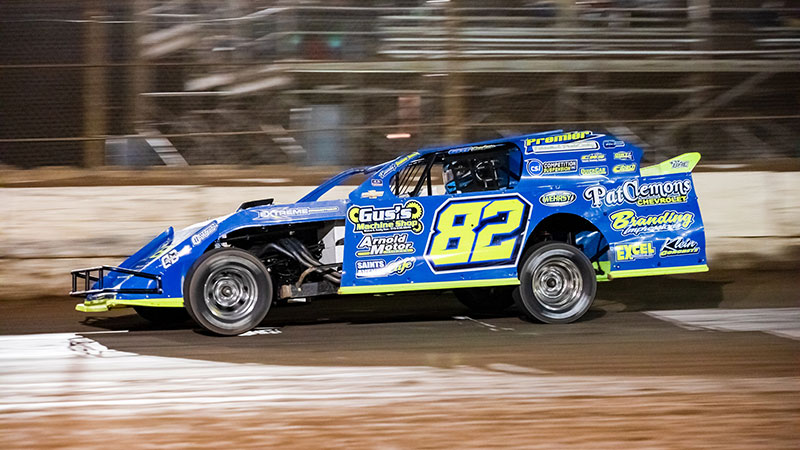 Brady Bjella and Jarrod Mounce brought the field to the start of the race and Bjella powered out to the lead. A handful of laps into the contest, Bjella was contested by Kevin Johnson. Johnson passed Bjella and set off in pursuit of victory.
Amongst lapped traffic, Johnson came around the last corner virtually unaware that McBirnie was there on the top side and was left stunned at the finish line as McBirnie came out on top. Bjella, Cole Carver and Kelly Jacobson rounded out the top five.
Feature Results
Modifieds –1. Ricky Thornton Jr., Clive, Iowa; 2. Jake O'Neil, Tucson; 3. Alex Stanford, Chowchilla, Calif.; 4. Casey Arneson, Fargo, N.D.; 5. Jeff Larson, Freeport, Ill.; 6. Hunter Marriott, Brookfield, Mo.; 7. Drew Armstrong, Benton, Ark.; 8. Cody Laney, Torrance, Calif.; 9. Jason Hughes, Watts, Okla.; 10. Spencer Wilson, Minot, N.D.; 11. Bricen James, Albany, Ore.; 12. Dylan Goplen, Fargo, N.D.; 13. Justin Kay, Wheatland, Iowa; 14. Robert Hellebust, Minot, N.D.; 15. Riley Simmons, Susanville, Calif.; 16. Jeff Taylor, Cave City, Ark.; 17. Tim Ward, Harcourt, Iowa; 18. Bobby Hogge, Salinas, Calif.; 19. Shawn Strand, Mandan, N.D.; 20. Casey Skyberg, Rapid City, S.D.; 21. Austin Howes, Memphis, Mo.; 22. Kelsie Foley, Tucson; 23. Travis Denning, Sterling, Ill.; 24. Don Geist, Burlington, Colo.; 25. Kollin Hibdon, Pahrump, Nev.
Northern SportMods –1. Jake McBirnie, Boone, Iowa; 2. Kevin Johnson, Bakersfield, Calif.; 3. Brady Bjella, Williston, N.D.; 4. Cole Carver, Apache Junction; 5. Kelly Jacobson, Fargo, N.D.; 6. Ryan Moser, Englewood, Colo.; 7. Matthew Mayo, Bakersfield, Calif.; 8. Justin Svoboda, David City, Neb.; 9. Fred Ryland, Brentwood, Calif.; 10. Chase Rudolf, Prole, Iowa; 11. Ty Rogers, Somerton; 12. Jim Horejsi, Marshall, Minn.; 13. Mark Harrison, Coolidge; 14. Matt Mayo, Bakersfield, Calif.; 15. Arie Schouten, Blair, Neb.; 16. Taylor Kuehl, Cave Creek; 17. Shelby Frye, Casa Grande; 18. Bryan Moreland, Durango, Iowa; 19. Jarrod Mounce, Atwater, Calif.; 20. Patti Ryland, Brentwood, Calif.; 21. Ty Weidner, Chandler; 22. Speedy Madrid, Phoenix, 23. Tate Johnson, Homestead, Mont.; 24. Keith Brown Jr., Pittsburg, Calif.