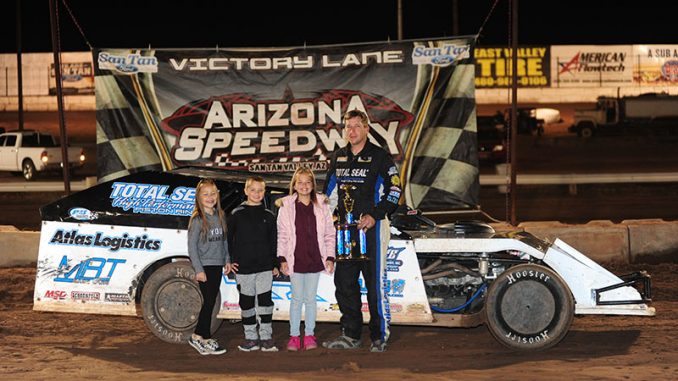 SAN TAN VALLEY, Ariz. (March 16) – Going back to the drawing board got Jason Noll back in victory lane.
Noll topped Saturday's All Star Night main event for IMCA Modifieds at Arizona Speedway, outrunning hard-charging Kelsie Foley for the $1,000 checkers.
"It was a really racy track," said Noll, already on the Fast Shafts All-Star Invitational ballot. "It was fast if you could hit the top right and the bottom in (turns) one and two was really good. I could get through there really well."
Noll had started fifth and dueled early with Shawn Strand, Zach Madrid and Tyler Mecl. He caught Strand for the lead following a lap seven restart and stayed in front to the finish.
Foley motored from 14th to take runner-up honors. Tenth starting John Morris was third, Zach Madrid was fourth and 20th starting Spencer Wilson completed the top five.
"This was just our seventh or eighth start of the year. We didn't do so well in our four Arizona Modified Tour starts," Noll said. "We were trying some new things and kind of shot ourselves in the foot. We went back to the drawing board, went with what we knew and the car was really good."
Darryn Werkmeister was the IMCA Sunoco Stock Car winner at San Tan Valley, ahead of Joey McCullough and Aaron Hetrick.
And Chase Rudolf racked up another Karl Chevrolet Northern SportMod win, racing all the way from 15th starting to take the checkers ahead of ninth starting Adam Echter. Speedy Madrid rounded out the top three.
Feature Results
Modifieds – 1. Jason Noll; 2. Kelsie Foley; 3. John Morris; 4. Zach Madrid; 5. Spencer Wilson; 6. Austin Kuehl; 7. Chase Alves; 8. Don Gumke; 9. Eric Center; 10. Brent Schlafmann; 11. Guy Norton; 12. Tim Jauhola; 13. Terry Haven; 14. Roy Poeling; 15. Lance White; 16. Dale Liversedge; 17. Chuck Grohnke; 18. Trevor Miller; 19. Jimmy Mills; 20. Shawn Strand; 21. Tyler Mecl; 22. Joey Moriarty; 23. Jacob Pace; 24. Bryson Curry.
Stock Cars – 1. Darryn Werkmeister; 2. Joey McCullough; 3. Aaron Hetrick; 4. Corey Hurley; 5. Robert Werkmeister; 6. Mike Nance; 7. Eric Lloyd; 8. Steve Soboski; 9. Brian Hyatt.
Northern SportMods – 1. Chase Rudolf; 2. Adam Echter; 3. Speedy Madrid; 4. Mark Harrison; 5. Ty Weidner; 6. Taylor Kuehl; 7. Darin Center; 8. Shelby Frye; 9. Tate Johnson; 10. Terry Bahr; 11. Heath Dry; 12. Drew Costa; 13. David Jones; 14. Michael Egurola; 15. Robert Holmes; 16. Brandyn Johnson; 17. Harland Morehart; 18. Cory Parent; 19. James Meile; 20. Steve Duffy; 21. Cole Carver; 22. Donald Costa; 23. Rex Hasley.