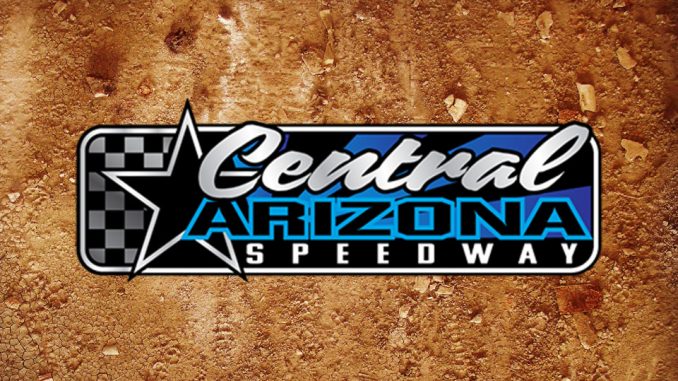 By Lonnie Wheatley
CASA GRANDE, Ariz. (Nov. 22) – Ricky Thornton, Jr., finished off a sweep of Central Arizona Speedway's seventh annual Desert Thunder Nationals, thundering to victory lane in Sunday afternoon's 25-lap IMCA Modified feature event atop the 3/8-mile clay oval.
Thornton, already on the Fast Shafts All-Star Invitational ballot, had topped $1,000 to win features on Friday and Saturday leading up to Sunday's $3,000 checkers and denying brother Jeremy the win in the process.
Ricky Thornton Jr. spent the first half of the race chasing Jeremy Thornton before working his way into the lead on the 14th round. He led the field the rest of the way with Jeremy Thornton fending off Jake O'Neill for runner-up honors and Jeff Larson and Austin Kuehl rounding out the top five.
"It's pretty awesome to run one-two," Thornton, Jr. said of sibling sweep of the top two positions.
While Thornton completed the trifecta, Bo Partain foiled a second consecutive Cody Thompson sweep attempt in the Karl Kustoms Northern SportMod ranks.
Bo Partain gunned into the lead at the outset of the 25-lap feature and led throughout after fighting off a late-race restart challenge from Illinois' Austen Becerra. Becerra settled for runner-up honors with Speedy Madrid in the show position.
Vying for a second consecutive Desert Thunder Nationals three-day sweep, Thompson fell three spots short in his rally from 22nd to fourth with Shelby Alves rounding out the top five.
"It was a new car we brought out Friday night and had a few bugs. We had a good car last night and went back to the drawing board and it worked out," Partain commented in victory lane.
Nov. 22 Feature Results
Modifieds – 1. Ricky Thornton Jr.; 2. Jeremy Thornton; 3. Jake O'Neill; 4. Jeff Larson; 5. Austin Kuehl; 6. Lance Mari; 7. Shawn Strand; 8. Spencer Wilson; 9. Rick Spencer II; 10. Jeff Taylor; 11. Brent Schlafmann; 12. Jesse Patterson; 13. Chuck Grohnke; 14. Doug Meeks; 15. Christy Barnett; 16. Tanner Black; 17. Eric Center; 18. Zachary Madrid; 19. Chris Carroll; 20. Chaz Baca; 21. Kelsie Foley; 22. Easton Whistler; 23. Mark Carrell; 24. Mike Brandon.
SportMods – 1. Bo Partain; 2. Austin Becerra; 3. Speedy Madrid; 4. Cody Thompson; 5. Shelby Alves; 6. Ron Schreiner; 7. J.J. McCarty; 8. Adam Echter; 9. Darin Center; 10. Crystal Hemphill; 11. Taylor Kuehl; 12. Gerry Glenn; 13. Brandyn Johnson; 14. Marcos Bojorquez; 15. Brian Bullis; 16. Joey Jock; 17. Drew Costa; 18. Justin Erickson; 19. Dakota Girard; 20. Sheyne Bradley; 21. Terry Belcher Jr.; 22. Michael Wrightsman; 23. Jackie Frye; 24. Wes Meeks, Jr.