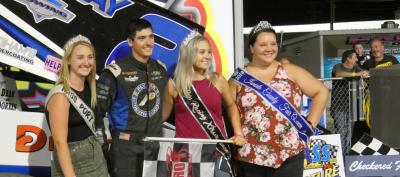 By Frank Buhrman 
PORT ROYAL, Pa. (Aug. 22) – "Nitro" Nick Sweigart has made some heroic charges from the back of the field to good finishes this season, but he got a good starting position Saturday and made the most of it, wiring the field for his second Pennsylvana Sprint Series feature win of the season at Port Royal Speedway.
Sweigart drew the pole for the 20-lap IMCA RaceSaver Sprint Car feature, outdueled outside front row starter Kirsten Hess for the lead and then held off charges from Doug Dodson and Gar­rett Bard.
Dodson made his most determined challenge in the race's only restart, on lap four. Dodson went for an inside pass but couldn't pull it off. Sweigart, Dodson and Bard then pulled away from the field, with all three cars running an extreme high line.
With the race remaining green the rest of the way, that battle continued in traffic, but Sweigart handled the lapped cars and never allowed another serious challenge.
On lap 14, Bard slipped past Dodson for second, and three laps later, Dave Grube moved into the third spot, but Sweigart was in control the rest of the way.
The win was Sweigart's third overall in an up-and-down season that has seen him finish in the top five in six of his 11 starts and outside the top 10 in the remaining five.
Feature results – 1. Nick Sweigart; 2. Garrett Bard; 3. Dave Grube; 4. Doug Dodson; 5. Domenic Melair; 6. Larry McVay; 7. Kassidy Kreitz; 8. Landon Price; 9. Erin Statler; 10. Devin Adams; 11. Justin Mills; 12. Kirsten Hess; 13. Jimmy White; 14. Jaremi Hanson; 15. Kyle Keen; 16. Dylan Smith; 17. Daryl Stimeline; 18. Brody Adamsky; 19. Jared Zionkowski; 20. Fred Arnold; 21. An­drew Boyer; 22. Ian Cumens; 23. Reed Thompson; 24. Jason Bergstresser; 25. Dustin Young; 26. Branstin Shue.