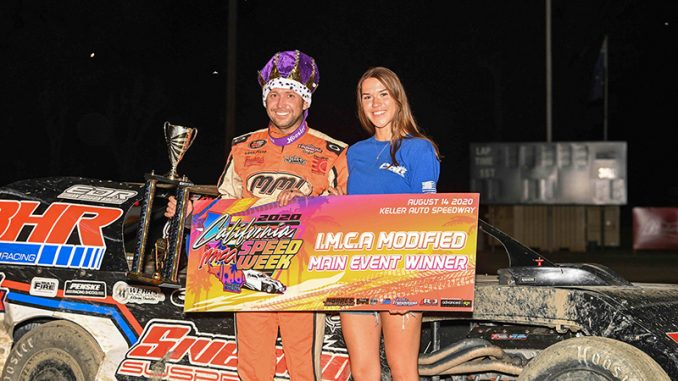 By Stephanie Deatherage 
HANFORD, Calif. (Aug. 14) – Round five of the California Modified Speedweek presented by Hoppes took the tour to Keller Auto Speedway at Kings Fairgrounds, where Kyle Heckman pre­vailed over a field of 64 IMCA Modified entries and Brent Curran collected his first Karl Kustoms Northern SportMod victory.
The Modified feature ran non-stop and Heckman took control of race lead from the get-go, pulling away from the rest of the pack and never looking back.
Heckman handled lapped traffic perfectly, earning $1,000 and a spot on the 2021 Fast Shafts All-Star Invitational ballot while becoming the fifth different winner in as many Speedweek events.
A spirited battle for second went to Bobby Hogge IV while Troy Foulger was third over "B" qualifi­ers Paul Stone and Alex Stanford.
Garrett Jernagan brought a streak of four straight Northern SportMod wins into the night but was a quick casualty after getting caught up on a multi-car crash on the original start.
Curran took over the lead on the ensuing restart and, after the final caution on lap 16, was pres­sured by Nick Spainhoward.
Spainhoward mounted one last charge on the final circuit but ran out of laps.  Curran took the $750 win ahead of Spainhoward and Doug Hagio.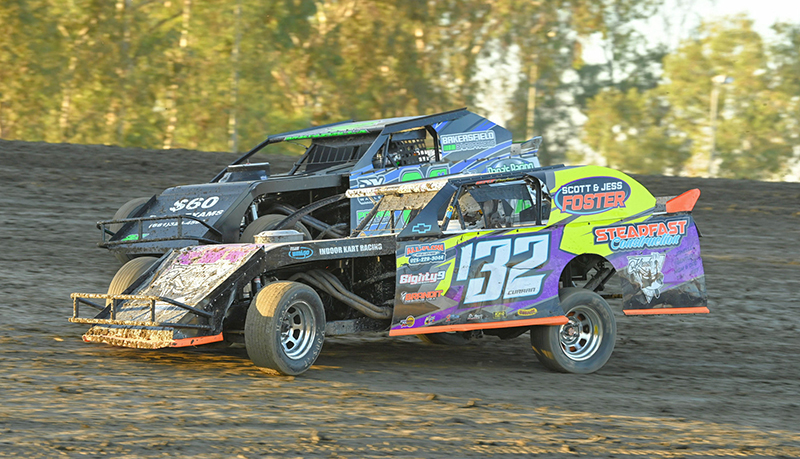 Brent Curran was the Karl Kustoms Northern SportMod winner in the Friday California IMCA Speed­week show at Keller Auto Speedway at Kings Fairground. (Photo by Tom Macht, www.photofinishphotos.com)
Feature Results
Modifieds – 1. Kyle Heckman; 2. Bobby Hogge IV; 3. Troy Foulger; 4. Paul Stone; 5. Alex Stan­ford; 6. Brian Cass; 7. Jake Pake; 8. Collen Winebarger; 9. Cody Burke; 10. Jerry Flippo; 11. Robby Sawyer; 12. Brad Pounds; 13. Bryan Clark; 14. Danny Wagner; 15. Clint Rechenbach; 16. Steve Noland; 17. Troy Morris III; 18. Andy Obertello; 19. Buddy Kniss; 20. Kellen Chadwick.
Northern SportMods – 1. Brent Curran; 2. Nick Spainhoward; 3. Doug Hagio; 4. Todd Gomez; 5. Ethan Killingsworth; 6. Matt Mayo; 7. Jason Bannister; 8. Tanner Thomas; 9. Jarrod Mounce; 10. Brock Crawford; 11. Tyler Thomas; 12. Haley Gomez; 13. Ryan DeForest; 14. Justin Gonzalez; 15. Nathan Rolfe; 16. Aaron Farrell; 17. Dave Pearson; 18. Trevor Tiffee; 19. Dylan Potter; 20. Garrett Jernagan.