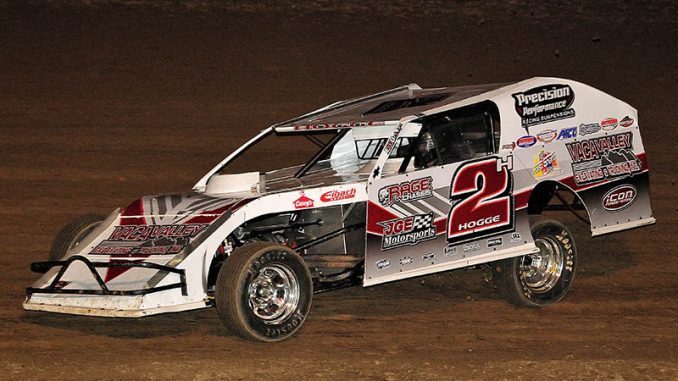 By Ben Deatherage
HANFORD, Calif. (May 2, 2022) – A veteran and a youngster ran 1-2 in the Friesen Performance IMCA Modified main event at Keller Auto Speedway Monday, opening night of the Central California Clash. 
Bobby Hogge cruised to the $1,000 checkers for his fourth win of the season and career 98th in the division while Jake Pike, the Shaw Race Cars Western Region rookie of the year just three years ago, navigated his way to runner-up honors.
The main event began with a great battle between Troy Foulger and Hogge, champion of the 2020 version of the now rebranded Speedweek. Foulger had the initial advantage coming across the stripe, but that lap was negated due to caution. On the second attempt, it was Hogge leading the charge.
Hogge had no real issues at the point as he piloted the Paul Guglielmoni-fielded entry around the track. Cody Laney submitted a bid on the fourth and final restart but Hogge was so good on the long green flag runs that he cruised away from everyone else.
Already eligible to qualify for the Fast Shafts All-Star Invitational, Hogge won ahead of Pike, Robby Sawyer and Laney, with fifth place credited to 18th starting Jerry Flippo.
The IMCA Sunoco Stock Car feature touched off with a two-car fight between Chad Johnson and Brock Hamilton.
Hamilton secured P1 on the first lap but had issues out of the final corner, turning over the lead to Johnson. As Johnson tried to scoot away from everyone else, he got sideways coming out of turn four, giving the lead back to Hamilton.
Hamilton stayed solid on the restarts and once the green flag runs developed pulled away from the rest of the pack. On the final restart, with seven laps remaining, Garrett Corn stayed in stride with Hamilton to try and challenge for the top spot.
However, Hamilton kept him back and maintained the role as the trail boss and was the first car to be greeted by the checkered flag, earning $750 and B & B Racing Chassis All-Star Invitational qualifying eligibility.
Corn was the runner-up while Loren DeArmond settled for third. The rest of the top five was made up of double-duty driver Troy Foulger and Dakota Schweitzer.
And in the Friesen Performance IMCA Northern SportMods, Fred Ryland took full advantage of his front-row starting position. He had complete control of the point in the race's first half while four yellow flags were waived that kept challengers relatively close to each other.
After the final green flag let loose, Tyler Bannister stuck with Ryland and tried to mount a challenge
Bannister, 2021 national rookie of the year in the division, tried his luck on the inside and managed to make it side-by-side, but Ryland was a tad bit better on the high side. The two traded lanes twice on lap 19.
The result was Bannister pulling off a slider out of the last turn to obtain first place. Ryland tried to recapture the position on the final circuit, but Bannister held on to procure the $750 victory.
Ryland, Cale Kanke, Jason Bannister and Jarrod Mounce completed the top five.
The Central California Clash is back in Hanford on Tuesday for the second of six events. Racing gets underway at 6 p.m.
Feature Results
Modifieds – 1. Bobby Hogge; 2. Jake Pike; 3. Robby Sawyer; 4. Cody Laney; 5. Jerry Flippo; 6. Logan Drake; 7. Kyle Heckman; 8. Dalton Houghton; 9. Troy Morris III; 10. Cody Burke; 11. Brad Pounds ; 12. Troy Foulger; 13. Brady Gladd; 14. Jim Pettit II; 15. Devon Reed; 16. Vinny Raucci Jr.; 17. Nick DeCarlo; 18. Cameron Williams; 19. Cory McDonald; 20. Matthew Hagio.
Stock Cars – 1. Brock Hamilton; 2. Garrett Corn; 3. Loren DeArmond; 4. Troy Foulger; 5. Dakota Schweitzer; 6. Steven Johnson; 7. Troy Patee; 8. Josh Nichols; 9. Fred Ryland; 10. Dave Hill; 11. Steve Stone; 12. Michael Shearer; 13. Rick Diaz; 14. Miranda Scott; 15. Jacob Van Essen; 16. Scott Foster; 17. Larry Thompson; 18. Matt Mayo; 19. Chad Johnson.
Northern SportMods – 1. Tyler Bannister; 2. Fred Ryland; 3. Cale Kanke; 4. Jason Bannister; 5. Jarrod Mounce; 6. Nick Spainhoward; 7. Dave Pearson; 8. Jason Pugh; 9. Riley Jeppesen; 10. Orion Messina; 11. Austin Pugh; 12. Jonathan Hagio; 13. Emali VanHoff; 14. Ryan DeForest; 15. Codie Hampl; 16. Markus Frazier; 17. Kodie Dean; 18. Taylor Brard; 19. Willy Oathout.