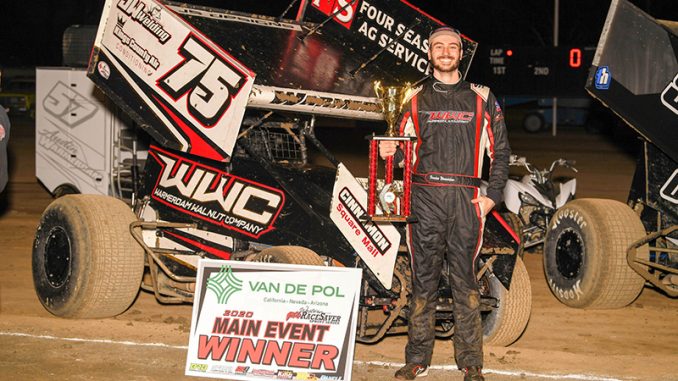 HANFORD, Calif. (Feb. 22) – A third-generation driver earned his IMCA RaceSaver Sprint Car career-first feature win Saturday at Keller Auto Speedway.
Brendan Warmerdam topped the opening night Van De Pol Western RaceSaver Sprint Series 25-lapper, starting fourth and catching Kyle Rasmussen for the runner-up spot after a long low line run in third.
He reeled in Rob Solomon for the lead and pulled away to win by better than a second and a half in a green, white, checkered finish.
"I knew 15 laps in that I had the car to win. I knew if I ran smooth laps I could get it done," said Warmerdam, whose grandfather and father each won multiple track championships at Hanford during their respective careers. "I grew up watching my dad race here. It's crazy to get my first win at the track where he dominated."
The long-time micro sprint driver is in his second RaceSaver season. An art major at College of the Sequoias in Visalia, he ran a very limited schedule in 2019, collecting four top-five finishes in just five starts.
Solomon, defending series champion Grant Champlin, Colby Thornhill and Mike Schott com­pleted the top five.
Feature results – 1. Brendan Warmerdam; 2. Rob Solomon; 3. Grant Champlin; 4. Colby Thorn­hill; 5. Mike Schott; 6. Connor Danell; 7. Michael Pombo; 8. Albert Pombo; 9. Brooklyn Holland; 10. Rick Bray; 11. Caden Stoll; 12. Gordon Rodgers; 13. Jacob Pacheco; 14. Phil Heynen; 15. Benjamin Catron; 16. Kyle Rasmussen; 17. Blaine Fagundes; 18. William Stevens; 19. Lance Jackson; 20. Steven Wenzel; 21. Sean Quinn.