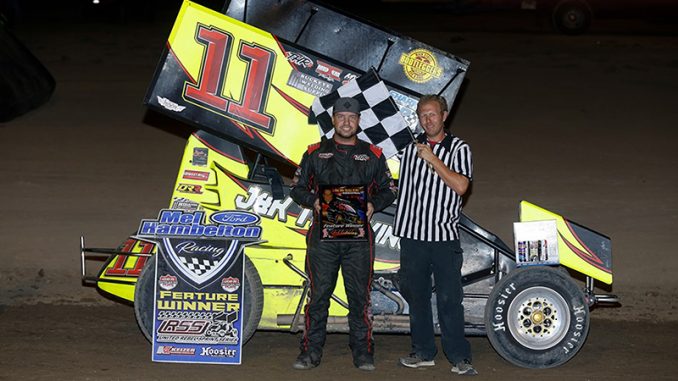 OBERLIN, Kan. (Aug. 14-15) – The runner-up on opening night was the winner on night two, when the Mel Hambelton Ford Racing Lucas Oil POWRi United Rebel Sprint Series traveled to Oberlin Speedway for the Bob Salem Memorial.
Zach Blurton topped the Saturday show for IMCA RaceSaver Sprint Cars after passing Koby Wal­ters for the front spot on the 14th of 25 circuits. Jake Martens, Walters, Monty Ferriera, and Jed Werner rounded out the top five.
Monty Ferriera took off with the early lead and stretched his advantage to about eight car-lengths before slipping off of the track and passing the lead position to Walters.
Lap 14 found Blurton riding around the top of turn two to get past Walters for the lead while Ferri­era worked his way back into fourth. Blurton snuck away with the lead over Walters, navigating through lapped traffic before a restart one lap later.
Blurton took off with the lead on the restart while Jake Martens advanced to third over Jed Wer­ner. Monty Ferriera and Jed Werner battled for fourth for several laps before Ferriera prevailed with the position. Martens advanced to second with two laps remaining.
Feature Results
Aug. 14 – 1. Tyler Drueke; 2. Zach Blurton; 3. Jeremy Huish; 4. J.D. Johnson; 5. Jake Martens; 6. Shane Sundquist; 7. Monty Ferriera; 8. Koby Walters; 9. Stu Snyder; 10. Jed Werner; 11. Buddy Tubbs; 12. Kyler Johnson; 13. Alexander Ort; 14. Tom Belsky; 15. Willie Wynn; 16. John Webster; 17. Scott Cochran; 18. Taylor Velasquez; 19. Cale Cozad; 20. Nate Berry.
Aug. 15 – 1. Blurton; 2. Martens; 3. Walters; 4. Ferriera; 5. Werner; 6. Sundquist; 7. Tubbs; 8. Ort; 9. Todd Plemons; 10. Huish; 11. Kyler Johnson; 12. Berry; 13. Wynn; 14. Dalton Webb; 15. Mark Walinder; 16. Cochran; 17. Aaron Ploussard; 18. Velasquez; 19. Darren Berry, 20. J.D. John­son.