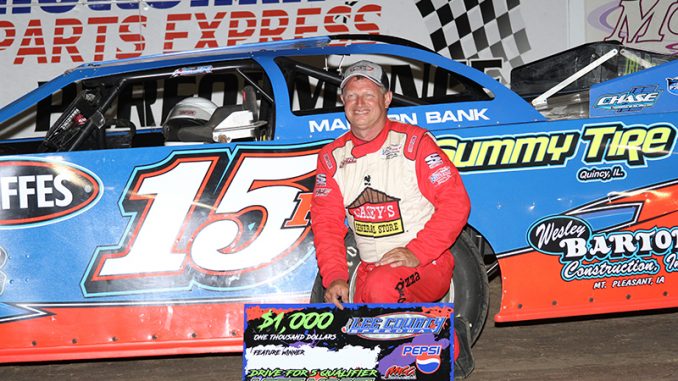 By Brian Neal
DONNELLSON, Iowa (Aug. 1) – Mark Burgtorf became the first two-time Shottenkirk Parts Ex­press Drive For 5 IMCA Sunoco Late Model winner on a rare Saturday night of racing at Pepsi Lee County Speedway.
Nick Marolf and Andy Eckrich drew front row starts for the $1,000 to win main event and Marolf grabbing the early lead over Burgtorf and the youngster C.J Horn. Burgtorf tried to work under Marolf over the next three laps, but Marolf was able to hold him off at the line each lap.
Coming off turn four to complete lap five, Burgtorf was able to get under Marolf and edge him at the line by inches to take over the top spot. Just after the lap was scored complete, the first and only caution of the race slowed action.
On the restart, Burgtorf jumped back out front with Marolf and Horn close behind. Burgtorf started to put some distance between himself and the battles going on behind him when he entered the back of the field on lap 20.
This allowed Marolf and Dustin Griffin, who had started sixth, to close back in on Burgtorf's back bumper with five laps to go. Despite a last-lap challenge from Marolf, Burgtorf held on to pick up his second Drive For 5 win od the season. Marolf settled for second, Griffin was third, Horn was fourth with Eckrich holding on for fifth.
Drive For 5 is presented by Ideal Ready Mix, Floyd's Waste Systems, J.J. Nichting Company Case IH, Woodworth Attorney at Law, Triple Seven Trucking, Triple R Performance Engines, KQ92, and Big Country 103.1.
Other $1,000 feature winners on the night were Michael Long in the Fast Shafts All-Star Invita­tional ballot qualifying event for IMCA Modifieds, Abe Huls in the IMCA Sunoco Stock Cars and Dylan Van Wyk in the Karl Kustoms Northern SportMods.
Brandon Reu was the Mach-1 Sport Compact winner.
Feature results – 1.  Mark Burgtorf; 2. Nick Marolf; 3. Dustin Griffin; 4. C.J. Horn; 5. Andy Eckrich; 6. Tommy Elston; 7. Sam Halstead; 8. Andy Nezworski; 9. Ron Boyse; 10. Denny Wood­worth; 11. Darin Weisinger Jr.; 12. Ray Raker; 13. Jay Johnson; 14. Frank Mason; 15. Ja­cob Waterman; 16. Matt Strassheim.