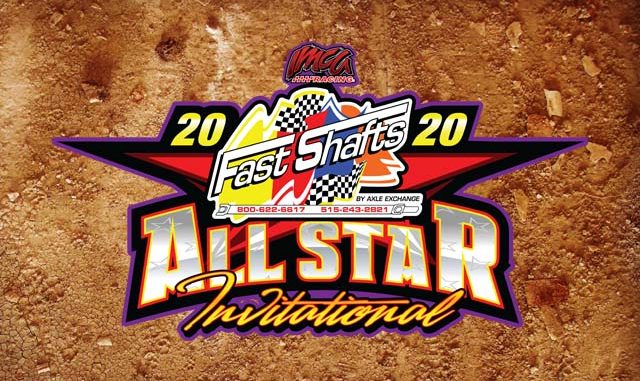 VINTON, Iowa – The race for IMCA Modified drivers to get their names on the 2020 Fast Shafts All-Star Invitational ballot heads into the final week. 
Winners of sanctioned events held through Aug. 6 that pay $1,000 or more to win become vote eligible.
Super Tuesday voting will be Aug. 11 to elect 28 of the 30 drivers who will start the All-Star Invitational on Friday, Sept. 11 during the IMCA Speedway Motors Super Nationals fueled by Casey's at Boone Speedway.
Super Tuesday voting will be conducted through the IMCA Facebook page, from 9 a.m. to 9 p.m. CST. The top three vote recipients from each of the five IMCA Modified regions become All-Stars, with their region of candidacy determined by where they made the majority of their sanctioned starts. The next 13 drivers with the highest vote totals, regardless of region, join the All-Star field.
The final two All-Stars will be drivers with the top national point total and the most 40-point wins as of Aug. 28 competing at Super Nationals.
Most recent additions to the ballot include Ethan Braaksma, winner of IMCA Speed Shift TV Dirt Knights Tour events at Park Jefferson Speedway and Buena Vista Raceway; Kyle Brown, first to the checkers in the fair race at Crawford County Speedway; Alex Stanford, who swept the 1st Class Chassis Wild West Tour doubleheader at Winnemucca Regional Raceway; and Marcus Yarie and Mike Mullen, winners at Shawano Speedway's Mid-Summer Classic.
Drivers already on the ballot winning qualifying events were Austin Arneson, Tom Berry Jr., Todd Shute and Joel Rust.
Any driver who believes they should be on the following ballot list should contact IMCA as soon as possible so their All-Star status can be verified.
Chris Abelson, Jeff Aikey, Ricky Alvarado, Drew Armstrong, Austin Arneson, Casey Arneson, Chaz Baca Jr., Eric Barnes, Brandon Beckendorf, Tom Berry Jr., Tanner Black, Wyatt Block, Steven Bowers Jr., Ethan Braaksma, Kyle Brown, Chris Carroll and Cayden Carter.
Kellen Chadwick, Cory Craver, Sawyer Crigler, Cory Davis, Zane DeVilbiss, Shane DeVolder, Ethan Dotson, P.J. Egbert, Chris Elliott, Trevor Fitz-Gibbon, Junior Flores, Kelsie Foley, Troy Foulger, Jeremy Frenier, Tripp Gaylord, John Gober and David Goode Jr.
Josh Goodwin, Daniel Gottschalk, William Gould, Jordan Grabouski, Kevin Green, Richie Gustin, Travis Hagen, Clay Hale, Chase Hansen, Clint Hatlestad, Kollin Hibdon, Luke Hines, Jacob Hobscheidt, Bobby Hogge IV, Philip Houston and Wyatt Howard.
Mitchell Hunt, Bricen James, Aaron Johnson, Nevin Kennemore, Austin Kiefer, Cody Laney, Jayden Larson, Jeff Larson, Cody Leonard, Josh Long, Justin McCreadie, Ryan McDaniel, Josh McGaha, Zach Madrid, Wade Manning, Hunter Marriott and Chris Mills.
Clay Money, Bob Moore, Rodney Morgan, Josh Most, Mike Mullen, Chris Nieman, Jason Noll, Jay Noteboom, Jake O'Neil. Jason Pershy, Brad Pounds, Tom Quint, Dereck Rhoden, Nick Roberts, Jesse Rogotzke, Kyle Rohleder and Anthony Roth.
Joel Rust, Cory Sample, Jim Sandusky, Robby Sawyer, Marlyn Seidler, Kelly Shryock, Todd Shute, Chris Simpson, Casey Skyberg, Trever Sloan, Brandon Smith, Jesse Sobbing, Alex Stanford, Tyler Stevens, Caleb Stone, Andy Strait and Shawn Strand.
Matt Szecsodi, Jeff Taylor, Jim Thies, Ricky Thornton Jr., Eric Tomlinson, Marcus Tomlinson, Nick Trenchard, Rob VanMil, A.J. Ward, Jon White Jr., Justin Whitehead, Johnny Whitman, R.C. Whitwell, Collen Winebarger, Fred Wojtek, Jason Wolla and Marcus Yarie.