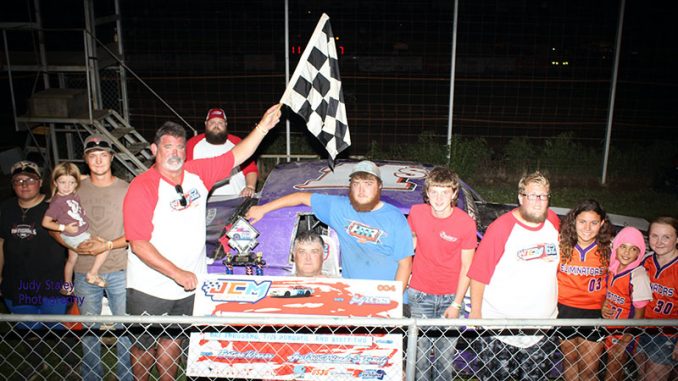 By Jacob Blair 
OSBORN, Mo. (July 24) – The fourth annual Joe Crist Memorial boasted the toughest field of IMCA Sunoco Stock Cars U.S. 36 Raceway has seen this season, and Steve Starmer proved to be the fastest of them Friday night.
Twenty-nine cars checked in to battle for the $1,562 to win race. With 26 laps on the board, Joe Crist's number 62 reversed, the field rolled into turn one with pole-sitter Starmer in the lead. With constant two and three-wide racing behind him, Starmer immediately found the high line to be the fast way around.
Chad Clancy quickly moved into the second position and began to look for a way around Starmer. Behind Clancy, Doug Keller and J.J. Baumli began their moves through the field as well.
However, for the entire second half of the event, the battle raged between Starmer and Clancy. As laps wound down, Clancy made several attempts on the low side to get to the inside of Starmer, but never could find enough speed. Leading all 26 laps, Starmer became the fourth winner of the Joe Crist Memorial in as many years, making the trip to Westfall GMC Victory Lane.
Clancy, Keller and defending winner Baumli finished second, third and fourth, respectively. Brad Derry held off Derrick Brown to complete the top five. The hard charger award went to Danny Holt who finished eighth after starting 21st. 
Tenth starting Jay Russell was the photo finish winner ahead of Kenny Potter in the IMCA RaceSaver Sprint Car main event and Steve Clancy collected the Karl Kustoms Northern SportMod checkers.
Feature results – 1. Steve Starmer; 2. Chad Clancy; 3. Doug Keller; 4. J.J. Baumli; 5. Brad Derry; 6. Derrick Brown; 7. Blake Peeler; 8. Danny Holt; 9. Jason Estes; 10. Tim Eaton; 11. Brian Labonte; 12. Matt Smith; 13. Josh Steele; 14. Anthony Robertson; 15. Connor Masoner; 16. Dale Eaton; 17. Thomas Roberts; 18. Randy Smith Jr.; 19. Luke Ramsey; 20. Brad Whitney; 21. Carson Masoner; 22. Ramon Ortega; 23. Brad Labonte; 24. Jon Boller Jr.