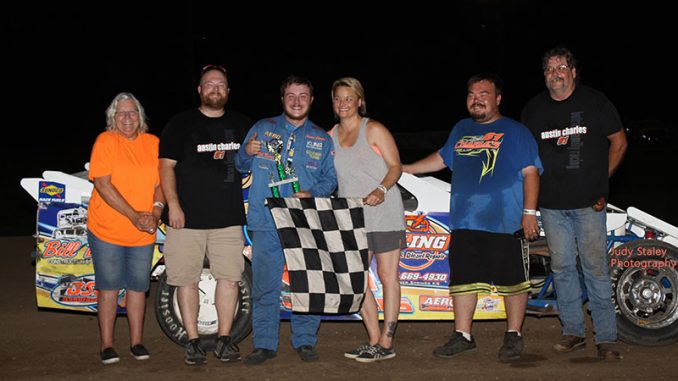 BETHANY, Mo. (July 25) – Austin Charles quickly went from fourth to first Saturday night and led every lap on his way to his first Karl Kustoms Northern SportMod win at Bethany Speedway this season.
Luke Stallbaumer started eighth on his way to a second place finish and Tim Eaton finished third.
In the IMCA Modified division there's always passing going on. Steven Bower Jr. shared the national points lead going into the weekend and quickly drove through the field at Bethany.
A caution-free race made it hard for anyone to recover from a mistake as Bowers went on to win after starting 10th. Shayne Bailey was second from 11th. Jayden Bears ran a great race, finishing third.
In the IMCA Sunoco Stock Cars, Blake Peeler put himself to the head of the class early while Carson Masoner stayed with him lap after lap.
Laps were winding down and it looked like Peeler had a hold on the win. But, as he's frequently this year, J.J. Baumli, was not going to let the party end without his presence.
Baumli kept driving around cars and when he got to Peeler and Masoner he just kept going. Baumli picked up win number three at Bethany this year from his eighth starting spot. Peeler and Masoner finished second and third, respectively.
Race number three of three straight Saturdays comes up this weekend, Aug. 1. Car counts are some of the highest every week, since Bethany opened back up in 2018 and the excitement level is even higher.