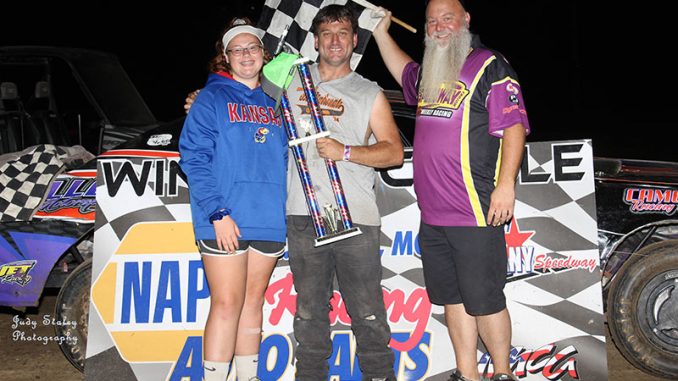 By Rick Staley 
BETHANY, Mo. (July 27) – Jason Estes held off a succession of challengers to take the $1,262 IMCA Sunoco Stock Car checkers Saturday at Bethany Speedway.
After showing plenty of speed in winning his heat race, Estes motored into the lead and stayed in front to the checkers. Mike Van Genderen bounced back from a foray through the infield to finish second.
Van Genderen has drawn the pole start with J.J. Baumli, winner of Friday's Joe Crist Memorial Shootout event at US 36 Raceway on the outside.
Van Genderen took the initial lead with Baumli challenging every inch of the way. Blake Peeler made his presence felt and tried his hand at the front of the field only to see the very fast Estes charge by.
Estes held the lead with Peeler and Baumli challenging every lap. Van Genderen made a trip through the infield and slipped to eighth, then mounted a charge back toward the front as the race pro­gressed.
Jason See took his turn vying for the lead only to fade slightly in the later stages of the race.
Estes was not be denied and parked in NAPA Racing Auto Parts victory lane following a hard-fought win.
Van Genderen raced back to second with Peeler third.
Shayne Bailey won his second IMCA Modified feature of the weekend and first of the season at Bethany.
Colton Nelson also picked up his first win of 2019 at Bethany, racing from deep in the field to col­lect the Karl Kustoms Northern SportMod checkers.
Feature results – 1. Jason Estes; 2. Mike Van Genderen; 3. Blake Peeler; 4. J.J. Baumli; 5. Ja­son See; 6. Mike Goldsberry; 7. Conner Masoner; 8. Mich Ross; 9. Billie Hoover; 10. Carson Ma­soner; 11. Anthony Goldsberry; 12. Steve Starmer.