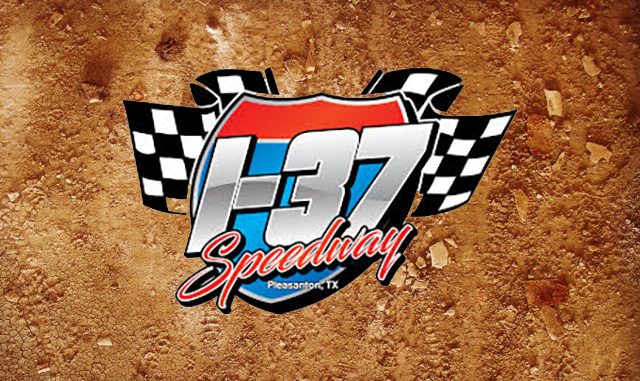 By J.M. Hallas
PLEASANTON, Texas (July 18) – Greg Dinsmore answered all the questions in winning the Satur­day Summer Showdown IMCA Modified feature at I-37 Speedway.
The 20-lap feature saw Dinsmore getting to turn one first trailed by Ryan Doyon, A.J. Wernette, Talon Minten and Johnny Melancon alongside Logan Dinsmore.
Following two early restarts, Doyon and Minten swapped the second spot before Minten powered around and closed on the leader.
Minten showed him his nose once with Dinsmore adjusting to a middle groove and holding the top spot. At halfway, Dinsmore was running up on traffic giving Doyon the chance to close a six-car advantage in the waning laps.
Dinsmore, a former track champion, got through traffic and kept Doyon at bay in taking the win. Son Logan was fifth.
"Just so many emotions racing with my kids," said Dinsmore "It's something I have been waiting for, for so many years. So many emotions. In the race Friday night we had a fast car but caught a rut and broke an upper 'A' arm. We spent the day welding things I never thought I would even try. So to say there was a question mark was on my mind is an understatement."
"In the Saturday race I was on the bottom waiting for someone to stick their nose in there. When (Ryan) Doyon stuck his nose in there I decided to try a new line," he continued. "Once we switched it up, I knew I had to step it up. The car handled it well. It got a little sketchy going through lapped traffic, but we got it done. I really want to thank my family."