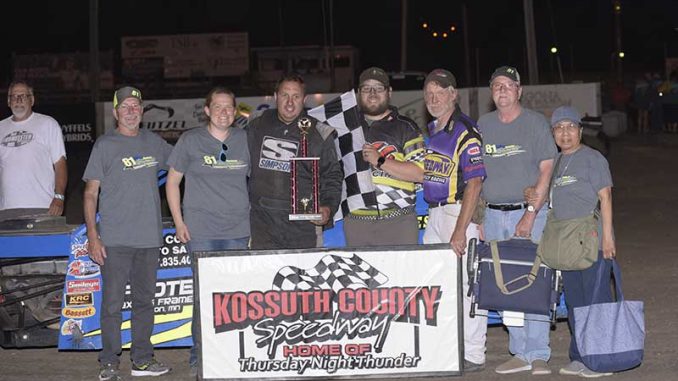 By Greg Grabianowski 
ALGONA, Iowa (June 25) – Jared Boumeester led the final 19 laps to collect the $1,000 checkers in the Wyffel's Hybrids IMCA SportMod special at Kossuth County Speedway.
Twenty-nine Karl Kustoms Northern SportMods contested the Thursday night main event with Bou­meester getting the win ahead of Matt Looft and George Nordman.
Boumeester had slid past Zach Davis for the lead on the sixth lap of the 25-lap feature and built a comforta­ble lead before encountering a group of lapped cars on the 15th circuit. Looft closed the gap to make things interesting as the two drivers weaved in and out of traffic.
Boumeester regained his line and held off the former national champion for his second win of the season at Algona.
"It was a nice win against a great field of almost 30 cars," he said from victory lane. "When I got to that big group of lapped cars I was thinking 'Come on, we need a yellow flag, maybe that would help not having to try to get through all of them.' Some of them would move way up and some would just slide up enough so I could get by them."
"Then I got to the last group and Looft caught up to me as I saw him coming on the outside," he contin­ued. "Luckily, I got back in the middle of the track and got the win. I knew Looft would be coming. He has been so fast all year long and 25 laps will give him enough time to get to the front."
Johnathon Logue went from 27th to 10th to collect an extra $100 as the hard charger.
Other winners were Nick Meyer in the IMCA Modifieds, Jake Masters in the IMCA Sunoco Stock Cars, Cody Nielsen in the IMCA Sunoco Hobby Stocks and Oliver Monson in the Mach-1 Sport Compacts.
SportMod feature results – 1. Jared Boumeester; 2. Matt Looft; 3. George Nordman; 4. Doug Cook; 5. Alec Fett; 6. Zach Davis; 7. Gerald Curry; 8. Jake Simpson; 9. Colby Fett; 10. Johnathon Logue; 11. Ja­son Bass; 12. Carter Shumski; 13. Nate Albrant; 14. Eric Bassett; 15. Greg Kramer; 16. Kevin Wiemers; 17. Jason Carney; 18. Alex Smith; 19. Randy Winter; 20. Charlie Stevens; 21. George Gilliland; 22. Nate Whitehurst; 23. Jeramie Faber; 24. Bill Wegner; 25. Shane Curry; 26. Justin Raymond; 27. Tyler Titus; 28. Devin Fish; 29. Josh Appel.