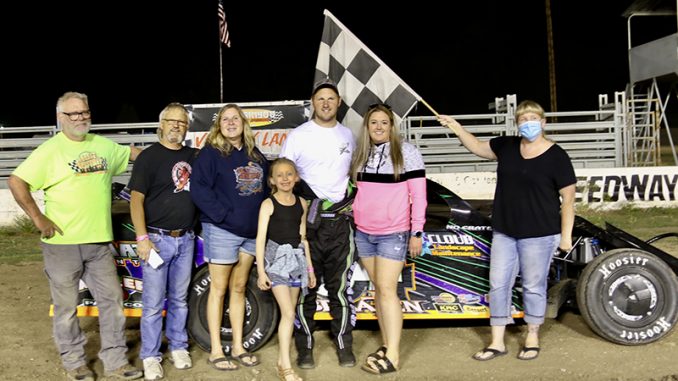 By Ben Deatherage 
YREKA, Calif. (June 20) – Saturday would be the second race of the 2020 season at Siskiyou Golden Speedway and both IMCA features saw repeat winners.
In the IMCA Modified feature, Paul Culp showed the way early. Culp paced the field for the first handful of laps before getting passed by Travis Peery on lap six. Peery, recently relocating to Yreka via Williston, N.D., had firm control of the top spot once in front. He received a brief challenge around the 17th circuit by Riley Simmons, but the caution flag negated Simmons' pass.
Peery held on the rest of the distance to capture his second straight victory at Siskiyou. Simmons was the runner-up followed by Nick Trenchard, Culp and Duane Orsburn.
Peery's son Ryan got control of the point at the completion of the opening lap in the Karl Kustoms Northern SportMod feature before tangling with another car. Matt Sanders inherited the lead and blazed the trail until lap 11.
Braaten would then have a dominating performance while running in first. The only thing to slow him up was the appearance of four cautions which kept the field bunched up and emphasized perfection on the restarts. Braaten remained the leader for the balance of the distance to win his second straight main event at Yreka.
Isaac Sanders got second over Mike Medel. Rounding out the top five were David Schmidt and Justin Foux.