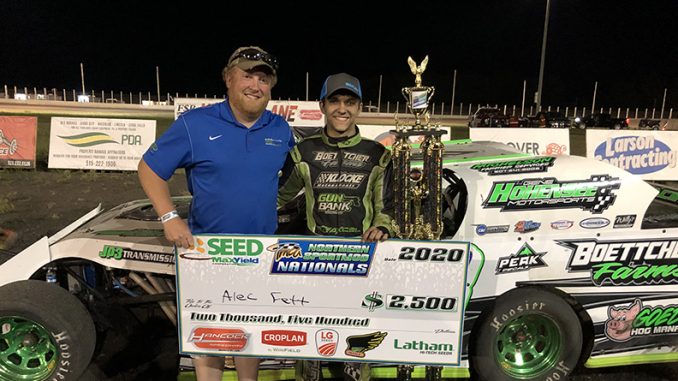 By Chad Meyer 
BRITT, Iowa (June 16) – Alec Fett raced to a career highlight win Tuesday night, getting the best of Brian Osantowski at Hancock County Speedway's MaxYield Seed SportMod Nationals.
The $2,500 Karl Kustoms Northern SportMod victory came in a nailbiter as Fett had to race his way back to the front and outrun Osantowski and his brother Colby to the stripe.
Fett had won the first heat and finished second in the dash, which put him in the preferred outside line of row for the initial start of the main event. Alec led by narrow margin with Colby on the low line.
Osantowski had opted to not run the dash to save his car, forcing him to start 10th in the main, but by mid-point of the feature was challenging Alec Fett. They raced several times side by side in the second half of the event with Fett narrowly maintaining his advantage at the stripe.
Fett nearly went off track as Osantowski got by to lead a couple laps, but a nifty cross over move by Fett put him out front for the rest of the way.
Defending race winner Johnathon Logue and Jared Boumeester rounded out the top five. George Nordman earned hard charger honors after coming out of his last-chance qualifier, starting 27th and finishing 11th.
Feature results – 1. Alec Fett; 2. Brian Osantowski; 3. Colby Fett; 4. Johnathon Logue; 5. Jared Boumeester; 6. Nate Whitehurst; 7. Cam Reimers; 8. Rich Pavlicek; 9. Darren Medler; 10. Blaine Webster; 11. George Nordman; 12. Nate Albrant; 13. Kevin Goben; 14. Mathew Hanson; 15. Charlie Stevens; 16. Carter VanDenBerg; 17. Carter Shumski; 18. Bill Wegner; 19. Autumn Anderson; 20. Robb Nutt; 21. Summer Anderson; 22. Jamie Anderson; 23. Nate Chodur; 24. Christian Sylvester; 25. Jeff Carter; 26. Maguire DeJong; 27. Josh Appel; 28. Robert Moore; 29. Joshua Moulton; 30. Cole Ignaszewski.