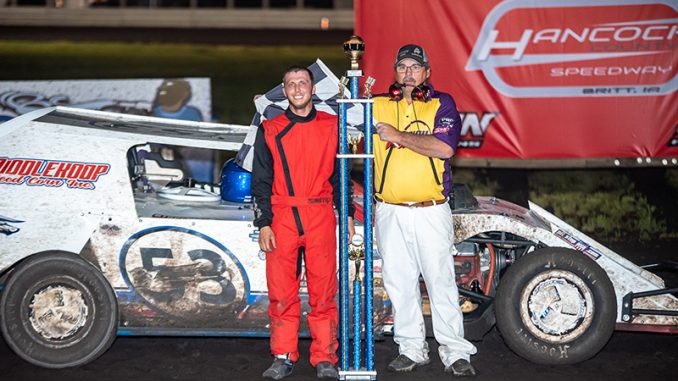 BRITT, Iowa (June 13, 2022) – Logan Anderson has a tall trophy and a big check to show for his first-ever visit to Hancock County Speedway.
Anderson took over the front spot following a lap nine restart, then ran away from the field in winning the 30-lap Landus Cooperative IMCA SportMod Nationals and $2,500 Monday night at Britt.
The last 15 laps of the Friesen Performance IMCA Northern SportMod main event stayed green. Tenth starting and defending race winner Matt Looft was second and Josh Appel ended in third.
"It's exciting to go to a new track. It's cool, especially when it's $2,500 and you win," Anderson said after finding room in the trailer for that trophy for the 2-1/2 hour tow home to Eddyville. "I didn't hot lap before I started on the pole and won the first heat. It was a two-win night for us so I'm happy."
Nate Whitehurst started from the pole and led the first eight circuits. Anderson made his way toward the front from outside row three and took advantage of the first caution of the night in making his pass for the lead.
"I put the wrong gear in but that actually helped me out. Once I got out front I could keep my speed up and go," he said.
"There were some good guys starting up front and I didn't know if I'd be able to pass them," added Anderson. "I raced with Cam (Reimers) and Jake (Sachau) for about four laps and when I got into lapped traffic I got under a lot of 'em on the bottom and kind of slid into the next corner."
Jake Simpson and Taylor Kuehl rounded out the top five.
Anderson owned wins this season at Davenport Speedway, CJ Speedway – which he said was comparable to Hancock County – and at 34 Raceway before taking the $1,000 checkers last Friday night in Lee County Speedway's Drive For 3 show.
Drivers scoring $1,000 wins Monday at Britt were Chase Rudolf in the Friesen Performance IMCA Modifieds, Chad Palmer in the IMCA Sunoco Stock Cars and Josh Sidles in the IMCA Sunoco Hobby Stocks.
Rudolf earned Fast Shafts All-Star Invitational qualifying eligibility while Palmer becomes eligible to qualify for the B & B Racing Chassis All-Star Invitational.
Jade Lange was the Mach-1 IMCA Sport Compact winner.
Feature results – 1. Logan Anderson; 2. Matt Looft; 3. Josh Appel; 4. Jake Simpson; 5. Taylor Kuehl; 6. Jake Sachau; 7. Colby Fett; 8. Cam Reimers; 9. Sam Wieben; 10. Jared Boumeester; 11. Charlie Stevens; 12. Mathew Hanson; 13. Brian Schrage; 14. Nate Chodur; 15. Blair Simmons; 16. Matt Beerbower; 17. Nate Whitehurst; 18. Geoff Olson; 19. Autum Winters; 20. Alec Fett; 21. Jeremiah Reed; 22. Justin Raymond; 23. Nate Albrant; 24. Izac Mallicoat.