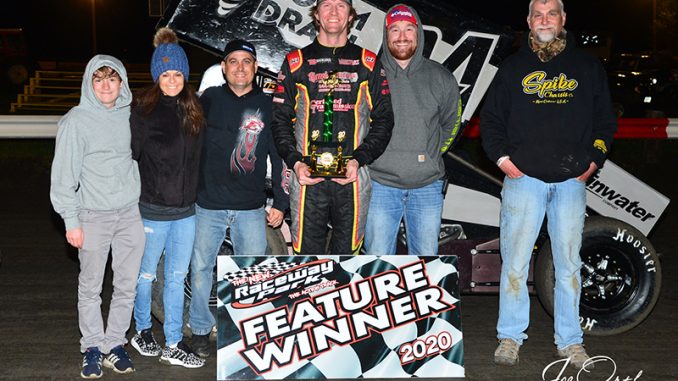 JEFFERSON, S.D. (May 17) – His third trip to The New Raceway Park ended with Jack Dover on the top step of the podium. 
After third- and second-place finishes in his first two visits to the Jefferson speedplant, Dover topped the Sprint Series of Nebraska opener on Sunday night.
"We've had really good results every time we've run there," Dover said following the IMCA Rac­eSaver Sprint Car victory. "It's a pretty fun little track. I wish I could race there more often."
The threat of rain disappeared before features were run. Dover started eighth, avoided getting caught up in any of the early cautions that slowed the 20-lapper and wasn't challenged once he got to the front.
"It was a really good track come feature time," he said. "I picked off a car about every lap, got the lead on about lap six and never looked back."
Second went to Danny Nekolite and defending series champion Tyler Drueke was third. Complet­ing the top five were Toby Chapman and young Texan Trey Burke.
Feature results – 1. Jack Dover; 2. Danny Nekolite; 3. Tyler Drueke; 4. Toby Chapman; 5. Trey Burke; 6. Stuart Snyder; 7. Dusty Ballenger; 8. Jason Danley; 9. Joey Danley; 10. Trefer Waller; 11. Ryan Voss; 12. Trevor Serbus; 13. Chase Weiler; 14. John Otte; 15. Mitchell Dvorak; 16. Gun­nar Pike; 17. Zach Blurton; 18. Kade Higday; 19. Tony Drueke; 20. Chad Koch